The Sloan Indigenous Graduate Partnership (SIGP) Scholarship Program
The SIGP Program at Montana State
Sloan Scholars & Alumni in the News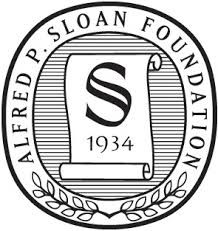 The Sloan Indigenous Graduate Partnership (SIGP) is a scholarship program funded by the A.P. Sloan Foundation since the fall of 2003 to support Indigenous (Native American, Alaskan Native, Native Hawaiian – U.S. Citizenship) graduate students pursuing degrees in science, technology, engineering or mathematics (STEM) with the intent of increasing the number of Indigenous Americans earning master's and doctoral degrees in STEM disciplines.
To be eligible, students must be accepted into a STEM graduate program at one of the 9 SIGP partner institutions University of Alaska-Anchorage, University of Alaska-Fairbanks, the University of Arizona (Tucson), the University of Montana (Missoula), Montana Tech of The University of Montana (Butte), Montana State University (Bozeman), and Purdue University (Indiana).
The Montana University System (MUS) SIGP Program
The national SIGP program was expanded in the fall of 2005 to include the participation of select graduate programs at The University of Montana (Missoula, MT) and Montana Tech of The University of Montana (Butte, MT). In 2012, Montana State University (Bozeman, MT) was invited to join the Montana University System (MUS) SIGP program.
SIGP Financial Support

The SIGP program provides funding to selected graduate students on a competitive basis. Each SIGP program partner has a responsibility to provide financial support to their Scholars; the amount allocated for tuition and teaching/research assistantships varies by institution. The Sloan awards are a supplement to the funding a Scholar receives from the institution/graduate program. The M.S. awards are $20,000 total and the Ph.D. awards are $40,000 total. A student can apply for an M.S. award and then apply separately for a Ph.D. award upon completion of the M.S. degree.

Robert Dorsey
Master's Candidate, Mechanical & Industrial Engineering
I am working with my research advisor, Dr. David Claudio, to develop a continuous improvement model to help improve patient satisfaction at healthcare clinics in rural areas, specifically on Native American reservations. The overall aim is to close gaps between clinical staff services and the expectations of patients. Read more about Robert..

The SIGP Program at Montana State
At Montana State University, the SIGP program has attracted an extraordinary group of Indigenous American graduate students who are pursuing degrees in the natural sciences. Among our students, research has ranged from wild rice, black bears, white bark pine trees, fish, neurology, water, buffalo, toxic dumping, to many other areas close to the heart of Indigenous peoples.
If you are an Indigenous American who is interested in a graduate degree in science, technology, engineering or mathematics (STEM), we are very interested in talking with you. We believe you will see that the SIGP program can offer you a unique opportunity to earn your graduate degree. Not only will you be given the opportunity for financial support, you will also have access to top faculty here on campus and the chance to connect with other Indigenous Americans pursuing graduate degrees.
MSU Sloan Scholars & Alumni in the News
MSU SIGP Eligibility Criteria
Applicants must be U.S. citizens and should provide evidence of enrollment in a federally or state recognized tribe. In the absence of such verification, the applicant must provide a written statement explaining her or his connection to a tribe or indigenous community. Applications from U.S. citizens who belong to tribes in Mexico or Canada will be considered.
A scholarship applicant must be accepted into a qualifying science, technology, engineering, or mathematics (STEM) program at MSU (see the list of eligible Master's and Doctoral degrees below). A primary research advisor must be identified, and each MSU SIGP applicant must have a teaching assistantship (TA) or research assistantship (RA).
*The Molecular Biosciences program does not offer its own degree; rather it is an interdisciplinary program where students enter and try research in many fields and then decide in which field to get their PhD.
Applying to SIGP
Students will be invited to apply.
Please fill out the
Graduate School inquiry form,
and make sure you indicate your ethnicity/tribal affiliation so that your inquiry is directed to the SIGP program administrator.
Contact Information
Please contact Dr. Barbara Komlos, bkomlos@montana.edu, 406-994-4206 for more information.
Click here to visit the Sloan Foundation webpage or find us on Facebook https://www.facebook.com/groups/sigpscholar/