Graduate Students in Action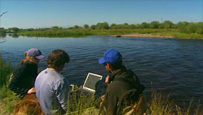 Matthew Calverley

Doctoral Student: Veterinary Molecular Biology
Hometown: Delevan, N.Y.

The National Institutes of Health awarded Matthew a prestigious Ruth L. Kirschstein National Research Service Award Individual Predoctoral fellowship to study how the immune system responds to disease.

Sara Wezensky

Doctoral Student: Veterinary Molecular Biology
Hometown: Louisville, Ky.

Sara was awarded a peer-reviewed, predoctoral fellowship from the American Heart Association for her work in gaining a better understanding of drug resistant infections.

E. Jerry Jessee

Doctoral Student: History and Philosophy
Hometown: Central California

Jerry was recently awarded a National Science Foundation dissertation improvement grant for his work in the environmental and medical implications of nuclear testing.

Frankee White Dress

Doctoral Student: Education
Hometown: Pine Ridge Reservation, S.D.

Frankee was named one of only 18 Bush Leadership fellows for 2009, an honor that enabled her to pursue her doctorate in Indian Leadership Education and Development.

International Study at MSU

Students from around the world choose to study at MSU for its research labs, faculty, and for the community that MSU and Bozeman offer to those a long way from home. Montana State University and the Bozeman community extend a warm welcome to international students.

David Hoffman

Doctoral Student: Electrical Engineering
Hometown: Salt Lake City, Utah

David was awarded a NASA Graduate Student Researchers Program fellowship and works part of the year at NASA Langley Research Center on the NASA Airborne high spectral resolution LiDAR.
MSU graduate students are building components for NASA satellites, developing software for Google, growing sustainable food, discovering new treatments for medical patients, creating energy alternatives, and producing films for National Geographic and the Smithsonian. MSU's collaborative culture breaks down barriers and enables graduate students to excel by drawing on numerous disciplines as they explore solutions to critical issues. Students are empowered to design a curriculum that suits their interests and strengths, and prepares them for successful career endeavors.
At MSU you can choose from more than 54 master's degree options, 37 doctoral degree options and 19 certificate options. As a graduate student, you have direct access to state-of-the art equipment and facilities, and will work alongside world-class faculty.
Questions about attending Graduate School at Montana State University? E-mail our admissions coordinators gradschool@montana.edu