Visitor Parking Information
Grant Street between 11th & 7th is closed beginning August 5th. For more information click the Romney Hall renovation information
Are you a visitor?
Valid license plate number is required to park on campus
Any guests visiting the main campus who are not faculty, staff, or students of the University are considered visitors. Family and Graduate Housing (FGH) visitors, please see FGH section for more details.
I'm a visitor! How can I purchase parking?
Please be advised that visitors who do not purchase and display a valid permit during the enforced times risk receiving a citation. Any vehicle in violation of university or federal regulations are subject to tell. Please see our policy page for more information.
Parking Location
How to Pay
Pricing

Parking Garage:

Central Campus

(Located behind Norm Asbjornson Hall at the corner of S 7th and Grant)

Credit card only via paystations on levels 1 and 2 or Passport Pay-By-App

0-60 Minutes: $5.00

Each Additional Hour: $2.50

Full Day Per Entry: $11.00

Harrison Street:

North Campus

Day Use Only

Credit card via Passport Pay-By-App

0-60 Minutes: $5.00

Each Additional Hour: $2.50

Full Day Per Entry: $11.00

Economy Option:

South Campus

(Moose Lots adjacent to Bobcat Stadium on Kagy Blvd.)

Credit card via Passport Pay-By-App

0-60 Minutes: $3.00

Each Additional Hour: $1.00

Full Day Per Entry: $7.00

Time limited parking spaces are located throughout campus

N/A

Free
Download the passport Pay-By-App onto your phone from your app store or visit ppprk.com. Visitors who prefer to pay with cash or check may purchase parking at Parking Services.
Location
From Interstate 90 take Exit 305 and turn south onto North 19th Avenue towards Bozeman. Continue on North 19th Avenue for approximately 4 miles. Turn left onto Kagy Boulevard and travel approximately 1 mile to South 7th Avenue. Turn left onto South 7th Avenue and the next right will bring you to the University Police station parking lot. Here you are able to purchase parking permits during business hours, have any parking or police related questions answered, and also handle any pending citations. Please see our campus map for parking zones.
Garage Paylot Instructions:
The paylot is an un-manned system in the parking garage near S 7th and Grant. Please enter the garage, park in a numbered spot without a 30-minute sign or a Reserved sign, and bring your license plate number to the pre-pay stations located in the corner near the stairwells.
We are currently using a license plate reading system, so your receipt does not need to be placed on the dash. Please be sure to enter the vehicle license plate number correctly to avoid a citation.
Conference and Event Participants/Vendors:
If you are attending a conference on campus, you should have received parking information in advance. If prior arrangements were not made, please be sure to purchase a parking pass or pay in the parking garage prior to attending the event to avoid citation. Event coordinators, department hosts, and any staff or students which invite guests to campus are responsible for providing the appropriate parking information.
To request temporary permission to use campus loading docks, service drives, and delivery areas from University Police, please call us at 406-994-1723 during business hours. Please call 406-994-2121 and select option 3 for after hours permission.
Are you a contractor?
All contractor vehicles are required to purchase a parking permit to park on campus. All MSU parking regulations apply.
Please refer parking-related questions to your supervisor or University contact.
Major renovation work on Romney Hall will begin Aug. 5. As a result, a portion of Grant Street near Romney will be closed to accommodate work on the building. The street will be closed between the Visual Communications Building service drive and the west end of the SUB loop. The VCB service drive entrance, the entrance to the Fieldhouse parking lot, and the SUB loop will remain accessible from Grant Street. Through-traffic should look for alternative routes, such as College Street, Harrison Street and Kagy Boulevard. A temporary sidewalk will be constructed leading pedestrians around the north side of the building. The existing sidewalk on the south side of Grant Street will remain open.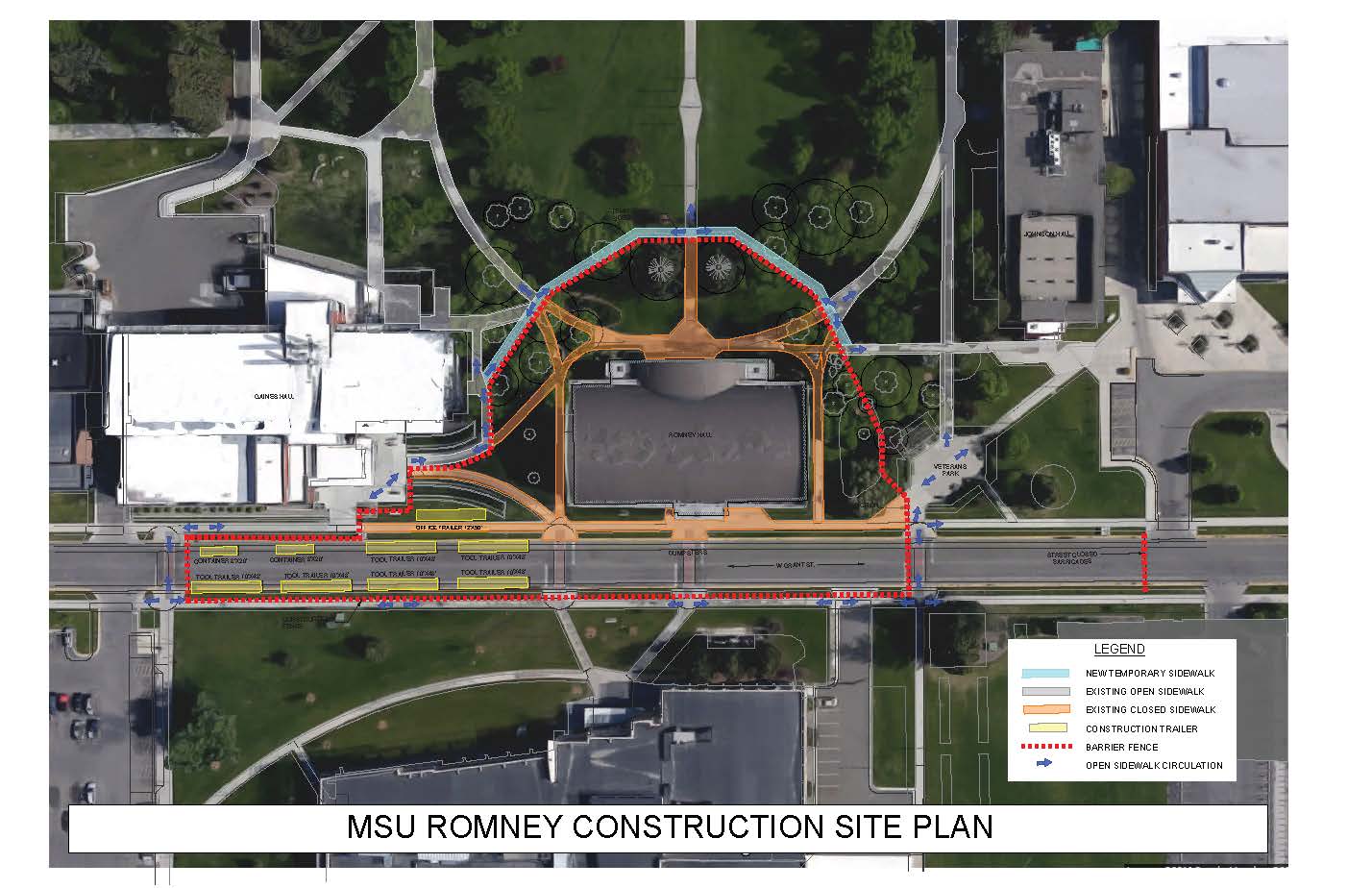 Visitors must comply with all University parking regulations. Please refer to the complete list of parking regulations here: www.montana.edu/parking/regulations.html
For any questions, please call us at 406-994-1723
We hope you enjoy your visit to MSU-Bozeman!