Directions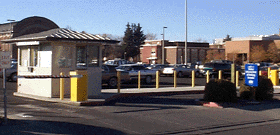 The paylot is now an un-manned system at 7th and Grant. Please enter lot, park, pre-pay at either station located on the East and West sides of the lot, take the ticket and display face up on your dashboard.
We hope you enjoy your visit to our campus.
For non-campus specific visitor information please see: Bozeman Area Visitor Information
We're Easy to Find
From Interstate 90 take Exit 305 and turn south onto North 19th Avenue towards Bozeman. Continue on North 19th Avenue for approximately 4 miles. Turn left onto Kagy Boulevard and travel approximately 1 mile to South 7th Avenue. Turn left onto South 7th Avenue and the next right will bring you to the Police/Parking Dept. parking lot. Here you are able to purchase parking permits, have any parking or police related questions answered, and also handle any pending citations.
Visitors may park in our hourly fee lot located on the corner of S. 7th Avenue and Grant Street of may purchase a daily permit for commuter lot parking (available at the Police Dept., located on the corner of S. 7th Ave and Grant Street).
Detailed campus maps are available.
Hourly Parking Rates (effective September 01, 2015)

$3.50 for initial hour
$1.50 for each additional hour
$8.00 maximum per day
Enforced 6 a.m. to 8p.m.
Other Options
You may also purchase a $4.00 daily parking permit which allows you to park in any of the commuter lots. The daily permit is not valid in gold signed reserved parking spaces or in the hourly fee lot. You may buy a permit at the Information Kiosk or from the University Police, located at the corner of South 7th Avenue and Kagy Boulevard.
Handicapped parking spaces are designated in red on the campus parking map and located in convenient spots throughout the campus. MSU parking permits are required to park in all handicap spaces across campus.
Click here for a detailed campus parking map.
Conference Participants/Vendors
If you are attending a conference on campus, you may have received parking information in advance. If not, check in at the Information Kiosk for initial assistance. Vendors should abide by visitor parking regulations or request permission to use campus loading docks and delivery areas from University Police. Please dial 994-1723 to secure permission.
Parking Hours
Parking lots are open after 6:00 p.m. weekdays and on weekends and holidays; no permit is required during these times. Service drives, handicapped zones, or 24-hour reserved areas, fire lanes, no parking zones etc, are enforced 24 hours a day, 7 days a week.The Visitor (fee) Lot is open from 6 a.m. to 8 p.m. for your convenience. If you wish to park elsewhere on campus, visitor parking regulations apply from 6 a.m. to 6 p.m., Monday through Friday on days university offices are open.
We remind you that visitors who do not purchase a permit during parking hours risk receiving a citation. Anyone receiving three citations or more is subject to towing.