Service Drive Permission Call 994-1723.
Police Department Snow Removal Policy
Permits may be purchased from the University Police, located on the corner of S. 7th Ave and Kagy Blvd. Daily permits are available for $4.00 per day. Visitor parking is also available in the Hourly Pay Lot on the corner of S. 7th Ave and Grant.
Update: The Pay Parking Lot will be moving to an automated system anticipated to be installed the first week of August. This system will be a PAY AND DISPLAY system.
Hourly Pay parking rates are:
0-60 Minutes: $3.50
Each Additional Hour: $1.50
Max Charge Per Entry: $8.00
Click here for the complete list of permit prices and citation amounts.
A copy of the FY14-FY15 Business Plan is available for review. If you have any questions regarding the Business Plan, please direct them to kurt.blunck@montana.edu.
MSU's parking regulations are enforced year round from 6 am to 6pm whenever MSU offices are open, including summer break, Christmas break, spring break, and days when class is not in session.


All permits must be visible from the exterior of the vehicle. Permits are issued to the owner of the vehicle, not the vehicle, meaning the same permit can be used for different vehicles, but only one vehicle at a time. Multiple permits must be purchased to park multiple vehicles on campus at the same time. If the permit is left in another vehicle, at home, in the car at the repair shop or for any other reason is not displayed in the car on campus, the driver must purchase a daily permit. The cost of a daily permit is $4.00.
Parking rates for academic year 2016-2017 are:
$185 for a SB permit (Standard commuter permit)
$185 for an E permit (Residence hall parking permit)
$40 for an F permit (Distant F Lot permit)
$4 for a daily permit valid in all commuter lots except Reserved and hourly pay parking
Parking Policy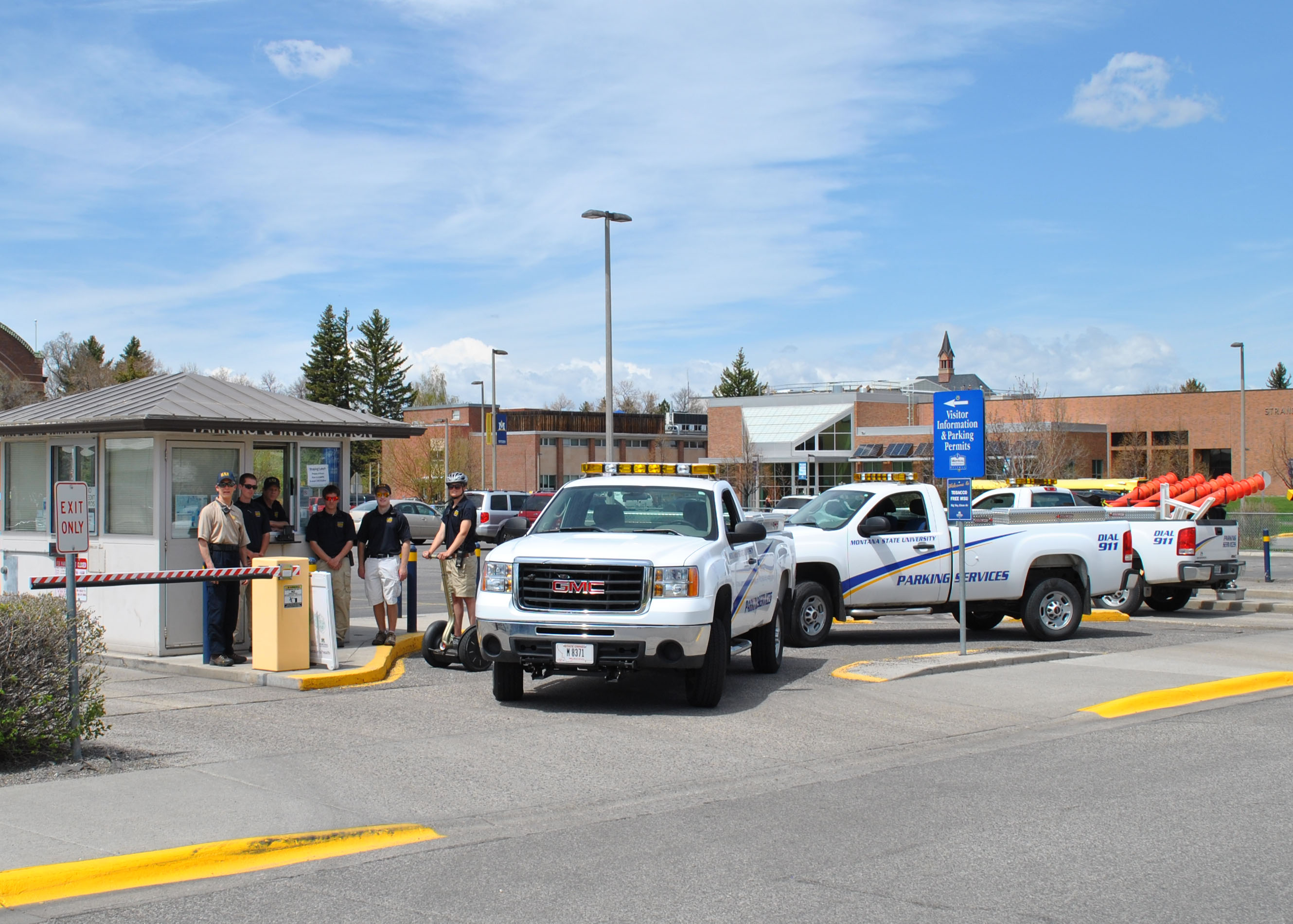 Parking on MSU-Bozeman campus is a privilege, not a right. Our primary interest is to foster convenience and safety for all people working and visiting the campus and to facilitate the efficient operation of the University.
Please acquaint yourself with the current parking regulations governing campus parking. It is the best way to avoid a ticket or loss of privileges. Ignorance of the regulations will only hurt you!
There are no free parking areas on campus!
All parking lots are constructed, maintained, operated, and administered through parking fees which are paid by all patrons. Parking regulations for Montana State University-Bozeman are published on an annual basis, both in print and on this Web site. Past and present presidents of the University have approved these regulations and the Board of Regents of the Montana University System has approved those segments that deal with cost, fines, and enforcement.
Best ways to avoid a parking ticket
Register your vehicle
Do not park in reserved spaces (which have gold signs)
Stay out of Yellow zones
Park in your assigned area
Do not park in a service drive
Leave handicap spaces empty
If you get a ticket, pay it on time
Limit yourself to 20 minutes in loading zones after calling the University Police (994-1723) for approval
How to avoid towing on campus
Do not accumulate three or more tickets
Do not park in a handicap zone
Do not park in a yellow zone or fire lane
Other Tips
You are responsible for anyone parking your vehicle or utilizing your permit on campus.
All students, faculty, staff, & visitors must register their vehicle or obtain a parking permit to park on campus.
You are responsible for all fines assigned to your vehicle or permit.
Other Services
Vehicle jump-starts are available 24 hours a day, seven days a week. Jumpstarts are available to anyone as long as the vehicle is located on university property or immediately adjacent to university property. There is no fee for this service.
Motor Assistance Available for You
The University Police Department provides students, employees, and visitors motor-vehicle assistance. Call 994-2121 anytime and one of our officers will assist you with:
Access to locked vehicles
Jump-starting dead batteries
Weather-related vehicle problems
Calling tow-trucks when necessary