NVivo - Qualitative Data Analysis Software
NVivo qualitative data analysis software is available to MSU faculty, staff, students, and graduate teaching assistants via an MSU site-wide license. NVivo may be installed on personally-owned or MSU-owned devices. Follow the steps below to download.
NEW License Key
August 1, 2018
MSU's new license key for NVivo 12 is available now.
***The new license key will only work for version 12***
ATTENTION NVIVO 11 Users:
If you downloaded NVivo 11 from MSU last year, you will need to download both the key and NVivo 12 as the new key will not work with version 11.
Please see instructions and information below.
To download, install & activate NVivo:
Follow the appropriate instructions below for your computer.
Training
How to access NVivo tutorials on Linda
When the Linkedin Learning page opens (after clicking link above):
Click the Sign In button (not Sign Up), then click Continue(see image below).
Log in with your MSU NetID and password.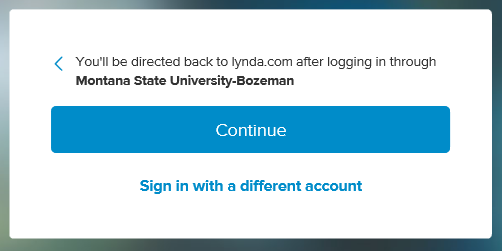 IMPORTANT: If you are not prompted with the box shown above, go to http://guides.lib.montana.edu/lynda. Enter your NetID and Password when prompted. When the Lynda page opens enter Learning NVivo into the Search field to go to tutorial.