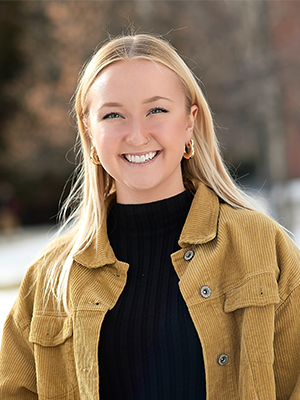 Admissions Counselor responsibilities include visiting high schools, attending college fairs and meeting with prospective students and families on campus.

Hometown:
Tigard, Oregon
Alma Mater & Major:
Undergraduate: Montana State University - Psychology
Favorite thing to do in Bozeman:
Bozeman has so many things to do, and my favorite time of the year is summertime. I love to go hiking up in Hyalite Canyon, paddleboarding at Bozeman beach, walking around downtown to explore different shops and restaurants, and biking around Bozeman's different neighborhoods!
Best college memory:
My favorite memory of going to school at MSU is the diverse group of resident and nonresident students that introduced me to country music, made me taste different foods, took me to my first rodeo, and welcomed me into their home for the holidays when I couldn't go home for Thanksgiving. Coming from Portland, Oregon, I never thought I would have become best friends with people from all over the country and small-town Montana, but I can honestly say they were a part of my favorite college memories and experiences!
Words of wisdom:
Get EXCITED. College can be overwhelming and full of uncertainty, but ultimately is one of the best experiences you can provide yourself with. Get involved with the community, join a club, work hard in school, try a new activity, and have fun creating a network. Higher education is an incredible opportunity, so I always encourage students to dive in to everything that it has to offer. These connections, networks, and experiences will last you a lifetime!
Follow our New Blog!
Introducing BlogCats: a blog created for prospective students and family members to help them explore all that MSU has to offer! Read posts by current students, Admissions Counselors, and faculty and staff from across campus. Come see for yourself why Montana State is Montana's Premier University! Explore the blog >>

Want more information about MSU? We're here to help.
If you have questions, please don't hesitate to reach out to us! You can email our staff at [email protected], or call us Monday - Friday, 8:00am-5:00pm MT at 1-888-MSU-CATS.