Promoting Indigenous Research Leadership (PIRL)
October 18-20, 2021
Bozeman, Montana
Originally scheduled for June 8-10, 2020, but postponed due to the COVID-19 pandemic, the PIRL workshop has been rescheduled for October 2021. Please contact James Burroughs at [email protected] with any questions.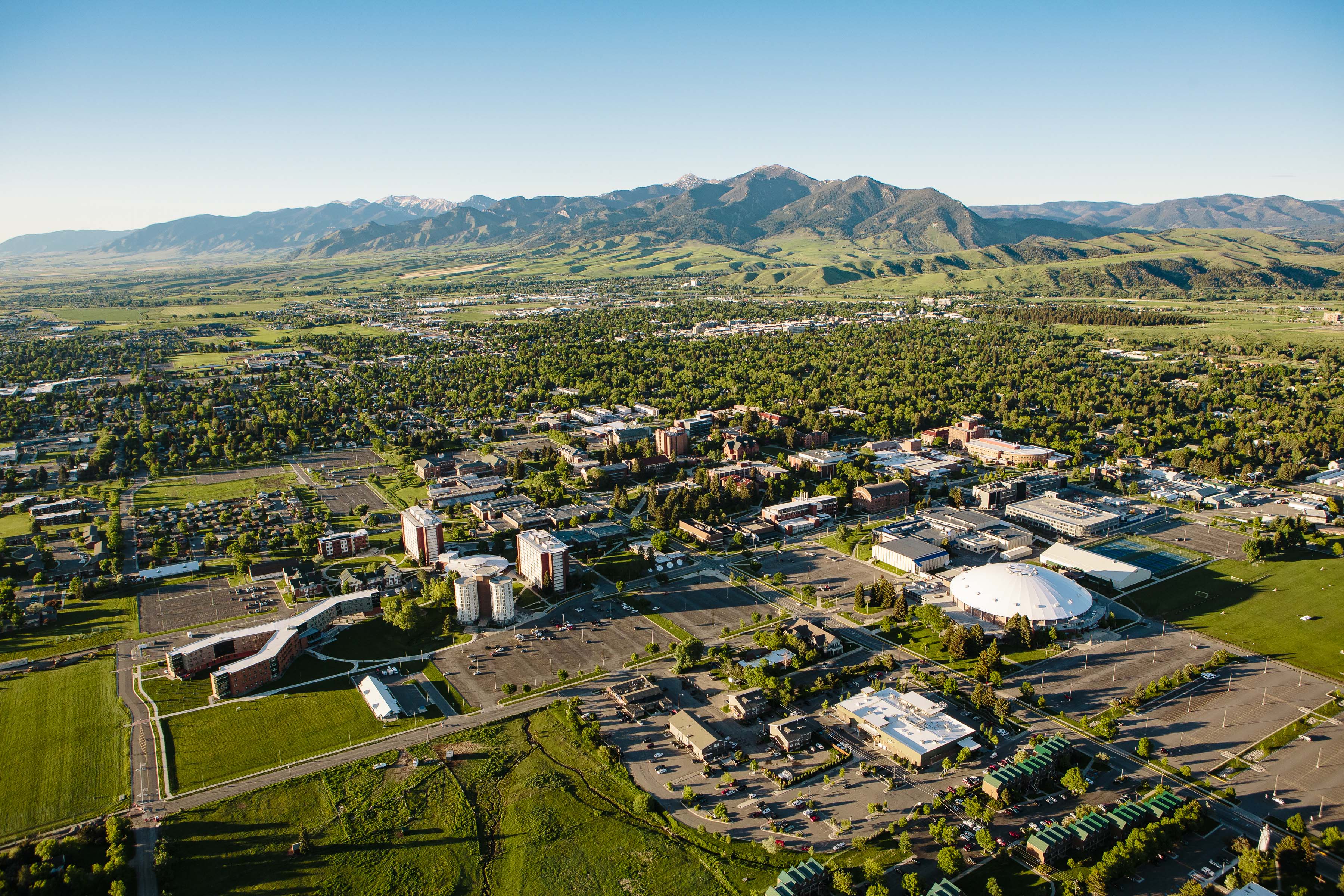 Bozeman, MT, and Montana State University. (Photograph by Adrian Sanchez-Gonzalez, MSU)
Sponsored by the National Institutes of Health and hosted by the Center for American Indian and Rural Health Equity (CAIRHE) at Montana State University and the University of North Dakota School of Medicine and Health Sciences, Promoting Indigenous Research Leadership (PIRL) is a three-day workshop designed to promote the research careers of Indigenous and other early-career faculty working with Indigenous communities. Its particular focus is preparing faculty to apply for the "Intervention Research to Improve Native American Health" (IRINAH) funding opportunity (R01/R21) at the National Institutes of Health. The workshop also helps faculty investigators foster a sense of community, improve leadership and grant application skills, and receive the career support they need.
A first wave of applications and selections for the workshop was completed in early 2020. Postponed due to COVID-19, PIRL is now rescheduled for October 18-20, 2021. Selections made in 2020 are still valid, and all previously selected participants have been notified of the new dates and confirmed. In addition, a limited number of new applicants were accepted in July 2021.
Promoting Indigenous Research Leadership (PIRL) includes:
Presentations from leading experts in Indigenous health, including

Donald Warne,

M.D., MPH (University of

North Dakota School of Medicine and Health Sciences), and

Alexandra Adams,

M.D., Ph.D. (Director of CAIRHE).
One-on-one consultation with program officers from the National Cancer Institute, the National Institute on Drug Abuse, and the National Institute of General Medical Sciences.
Focused mentoring with senior NIH-funded faculty from across the country, and with peers who share similar research interests.
Approximately 25 investigators from across the United States will participate. For those selected, there is no cost to participate, and the workshop will pay for all travel, lodging, and meal expenses.
Eligibility:
Applicants must be able to attend the workshop in-person in Bozeman, Montana. (All necessary COVID-19 precautions will be in place, as needed.)
Applicants must hold a doctoral degree and have a faculty appointment or comparable research appointment at a U.S. 2- or 4-year college or university, or at another NIH grant-eligible research organization.
Applicants must meet the

NIH definition for new investigator

.

Applicants must already be working with an American Indian/Alaska Native/Native Hawaiian community or have a stated career goal to do so.
Special consideration is given to faculty who are actively amending a previously submitted NIH research grant application that was not funded.
We regret that participants who attended the 2019 "Bridging the Gap: From Application to Funding" workshop in Bozeman, MT, are not eligible to participate.
Selection Criteria:
In addition to completing the brief online application, applicants must submit the following as attachments to the application:
An NIH Biosketch (preferred) or Curriculum Vitae.
A description (300 words or less) of the Indigenous community-based research currently underway or planned within the next three years.
A letter from the chair or dean of the applicant's department/school/college outlining the applicant's readiness for the workshop. The letter should indicate how participation in the workshop will advance the investigator's research plans, as well as offer a vision for her or his research progress over the next three years.
For questions or more information, please email James Burroughs, program coordinator for CAIRHE, at [email protected].
Past Participants:
You can read about alumnae/-i of the PIRL program on our PIRL Participants page.
New Applicants:
Participants for PIRL 2021 have already been selected, and the application is now closed. For information on future workshop opportunities, please email James Burroughs at [email protected].