We endeavor to develop food products that improve nutrition, empower local communities, and are sustainable for the environment.
Indigenizing food science for food sovereignty
Building Indigenous food entrepreneurship with Senegal smallholder women farmers
Tribal farm to school program with the Flathead Reservation
Globalizing Montana specialty crops
Pulse products
Small fruit and berries
Hemp innovation and testing
Strengthening the MSU farm to campus initiative
---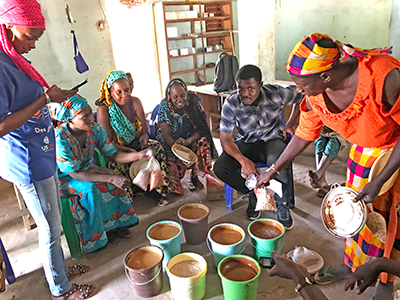 Graduate student Edwin Allan discusses the process of making Bonbon Bouye with Senegalese farmers
Indigenizing food science for food sovereignty
We are working with Senegal (West Africa) and Flathead Reservation (Montana, USA) communities to develop environmentally-sustainable food products that honor indigenous knowledge, generate revenue for local economies, and improve children's nutrition. These programs provide training in value-added product development and marketing, foster entrepreneurship, and empower women and other community members.
---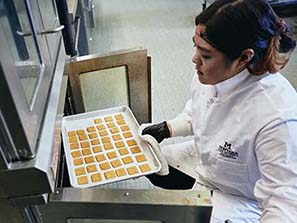 Former graduate student Sharon Li removes a batch of lentil crackers from the oven at the lab
Globalizing Montana specialty crops
We are studying and sharing information on the culinary, nutritional, and processing properties of Montana specialty crops to make them more competitive in the world market.
As a leading pulse producer, Montana ships out 90% of produce without any processing. We will use extrusion to develop pasta, breakfast cereals, snacks, and meat analogs using Montana specialty crops such as lentils, chickpeas, and beans to encourage value-added agriculture. We are also studying how low carbon footprint, organic, and Made-in-Montana labels can influence the purchase intent for pulse products.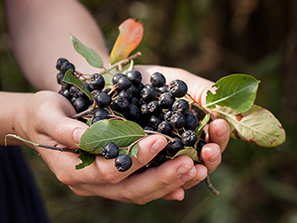 Montana community access to locally-grown fresh fruit is limited due to challenging weather conditions that limit the ability to produce certain common fruit crops, such as blueberries. Novel small fruits and berries such as haskaps, saskatoons, and dwarf sour cherries grow well in Montana's climate. This project focuses on mapping consumer interest and diversifying income streams by considering value-added food products.
Hemp innovation and testing
We are working with the Ravalli County Economic Development Authority (RCEDA) on the development of a hemp-infused cooking oil, made with Montana-grown and -processed hemp and safflower. Our involvement includes planning the design for constituency and consumer sensory testing, as well as providing product testing in our laboratory. Learn more about this project on the RCEDA website.
---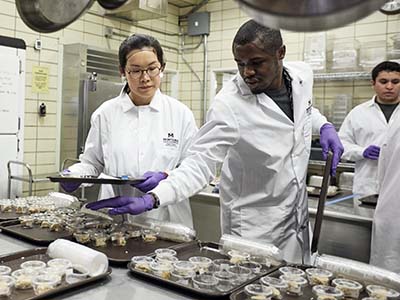 Dr. Wan-Yuan Kuo and FPDL graduate students prepare pancake samples for sensory testing
One of the biggest challenges that MSU Culinary Services faces is to find local products with good and consistent quality for university dining. The FPDL has worked with Montana food companies on improving the texture of products supplied to Culinary Services, including a pancake mix and a gluten-free granola.