Building Indigenous food entrepreneurship with Senegal smallholder women farmers
Introduction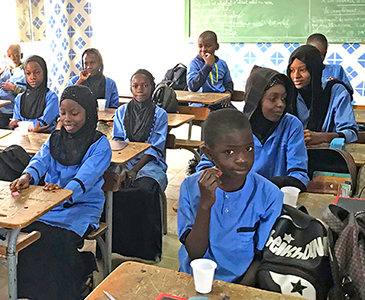 Beginning in 2018, a team from MSU-FPDL partnered with Bountifield International to work with women's groups from the Kaffrine region in Senegal to develop a value-added food product that would create opportunities for households to increase their incomes and improve the nutrition of their communities. As a master's student, Edwin Allan led Team PATH (Promoting Agricultural Transformation Holistically)​, which also included Dr. Wan-Yuan Kuo and undergraduates Cullen Kinnare, Emily Raber, Amber Clifton, and Haley Darlinton. The team conducted surveys and focus group discussions on an initial trip to Senegal in 2019.
The first product
Team PATH learned that cowpea and peanut harvests had suffered losses due to insect damage, inadequate storage, and late threshing. Based on these and other findings, the team collaborated with smallholder women farmers to develop a culturally-acceptable and nutritious peanut product to reduce the loss of their cowpeas and peanuts. On a 2020 trip to Senegal, the team conducted preliminary product sensory tests with school-age children and the community. Team members also showed farmers how to make the product and discussed product improvements, packaging, and pricing.
The nutrition bar was named Bonbon Bouye by the women who participated in the project. Bonbon Bouye, which translates as "Baobab delight", is made with cowpea flour, corn flour, peanut paste, baobab powder, vegetable oil and other ingredients. It provides all nine essential amino acids, vitamin C and antioxidants from the inclusion of baobab powder and other micronutrients. Schoolchildren can now have a nutritious snack during break to boost their immune system, concentration, and energy levels for the rest of the day.
U.S. nutriton bar
Currently, the PATH team is working on commercializing a Bonbon Bouye-inspired nutrition bar in the United States. Efforts have been made to tailor the product to Montanan's needs and palates by working with local ingredients to make the bar shelf-stable, nutritious, and most importantly flavorful. Team PATH is partnering with Mission Mountain Food Enterprise Center based out of Ronan, Montana to process the product and Montana Co-op based out of Hot Springs, Montana to sell the US product.
Senegal factory design
In Fall 2021-Spring 2022, a group of chemical engineering students worked with team PATH for their capstone project. The objective of the project was to design a facility for the smallholder women farmers to make their products. The facility will house all the equipment needed to produce Bonbon Bouye including a mixer, convection oven, and grinder to make flour. The chemical engineering team took a human-centered design approach and to address the needs of the women who will be working at the facility. The processing facility will also include a prayer room, a play area for children, a classroom and office space to educate the women, and a community garden.
Fermentation research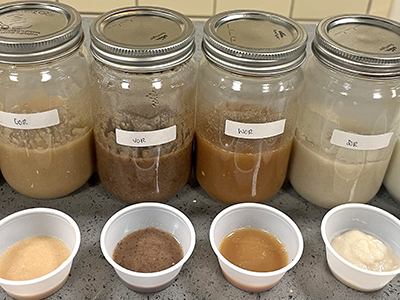 Student researchers are working with the women farmers to co-innovate a healthy fermented beverage. It is important that the beverage be non-alcoholic, not only for health but also because of cultural values. Yogurt is the most common commercially-available fermented food in Senegal. Team PATH's fermented beverage will include grains and locally grown fruits from Senegal which will help reduce postharvest losses of these crops. MSU researchers have been conducting trials using various combinations of grains, fruits, and milk.
Funding acknowledgement
This research is funded in part by the Foundation for Food & Agriculture Research New Innovator Award (FF-NIA21-0000000070). The content of this web page is solely the responsibility of the authors and does not necessarily represent the official views of the Foundation for Food & Agriculture Research (FFAR).
Learn more
Project fundraising video
Podcast interview
In episode 72 of the BAKED in Science podcast, host Mark Floerke interviews four PATH food science researchers (Dr. Wan-Yuan Kuo [FPDL and PATH director], Edwin Allan [MSU PhD student], and Chidimma Ifeh [MSU master's student]) about their work with Senegalese women smallholder farmers to develop Bonbon Bouye—a nutrition bar made of Senegalese Indigenous plants and locally-grown crops—and a yogurt drink containing fermented grains and fruit.
Publications
ECHM 412R presentation on Bonbon Bouye development and Senegal manufacturing facility plans
Institute of Food Technologies (IFT) 2020 Developing Solutions for Developing Countries Product Development Competition
Bonbon Bouye Peanut Nutrition Bar: A Step Forward for Smallholder Women Farmers in Senegal (Bountifield International guest blog post by Edwin Allan)
Current Team PATH members include Aliou Ndiaye (Senegal); Wan-Yuan Kuo, MSU-FPDL Director; Mary Miles, Professor and Associate Dean of Research for the College of Health & Human Development; Graham Austin and Trevor Huffmaster, Professors, Jake Jabs College of Business & Entrepreneurship; Paul Gannon, Professor, Chemical & Biological Engineering; Bruce Barnhart, Assistant Teaching Professor, School of Art; staff members Rebecca Richter and Dominic Pisaneschi; MSU graduate student, Chidimma Ifeh; undergraduates Hannah Kempf, Olivia Schwintek, Rebecca Soule, and Lynn Weeks; prospective PhD student; Mohammed Fall (Senegal); Mark Floerke, Baked In Science Podcast Host at BAKERpedia; and Donna Rosa, Chief Entrepreneurship Officer at EFour Enterprises LLC.