Summer 2023 Housing
Eligibility
To be eligible to reside in the residence halls, the student must be enrolled as a student of the University while taking at least 3 undergraduate or 3 graduate credits, enrolled in a Gallatin College Workforce Development Program or employed as a full-time student employee with University Housing or Culinary Services.
If you require accommodations for less than 4 weeks or do not meet the credit requirement, please contact Conference Services at 406-994-6583.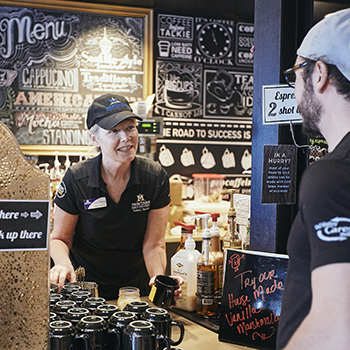 Accommodations
The summer housing hall is a co-ed residence hall providing updated and modern amenities for the on-campus population.
Features
Summer 2023 rooms will be assigned as single or double occupancy rooms
Large lobby area located on the first floor
Community laundry rooms
Public kitchen
Multiple areas throughout the building for community building and social lounge space
In your room, you will find the following furnishings: extra-long twin bed, closet, trash can, desk, and chair.
Students are expected to keep MSU Student Housing furniture in their room and it must be in the same condition at the end of the year as it was at the beginning of the year when the student moved in.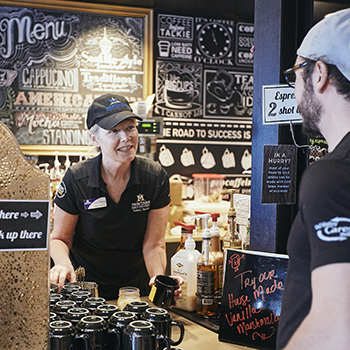 Other Considerations
There are other items you might want to bring with you, including:
Desk Items:
Multi-outlet plug-in strip, envelopes, stamps, highlighters, stapler and staples, rubber bands, paper clips, poster tack, markers, binders, paper, stationery, post-its, tape, glue, pushpins, note cards, safety pins, desk lamp, pencil holder, pencil sharpener, writing utensils, 3-hole punch, ruler, scissors, calculator, calendar.
Shower Items:
Shower shoes, bathroom caddy, toothbrush, toothbrush holder, toothpaste, soap, bar soap container, shampoo, conditioner, shaving kit, cosmetics, deodorant, bathrobe.
Laundry Items:
Laundry basket/bag, detergent, softener, bleach, Woolite, dryer sheets, hangers, drying rack, iron/clothes steamer, ironing board.
Linens:
Towels, wash cloths, blankets, sheets, pillows.
Appliances:
Microwave (must be UL-Approved), mini refrigerator (up to 4.5 cubic feet), coffee maker, speakers, computer, printer, fan, alarm clock, water filter, floor lamp, blow dryer, curling iron.
Miscellaneous:
Pictures, yearbook, wall decorations, rugs, favorite books, music, video games, movies, strands of lights, plants, camera, planner, temporary shelving, keepsakes, boots, waterproof jacket, athletic equipment, windshield scraper, dishes, silverware, water bottle, medicine, batteries, storage bins, furniture, posters, sewing kit, packing tape, first aid kit, food, umbrella, stress ball, tool kit, cards/dice/board games, extension cords.
Housing Rates: 2023 updated rates coming soon!
Term Session
Single Room Rate
Double Room Rate

4-week session

(May 15 - June 12)


$560.00, subject to change for Summer 2023
$420.00, subject to change for Summer 2023

4-week session

(June 15 - July 7
(July 10 - August 4)

$520.00, subject to change for Summer 2023
$390.00, subject to change for Summer 2023

6-week session

(May 15 - June 23)


$840.00, subject to change for Summer 2023
$630.00, subject to change for Summer 2023

6-week session

(June 12 - August 4)

$800.00, subject to change for Summer 2023
$600.00, subject to change for Summer 2023

12-week session


(May 15 - August 4)

Must be consecutive 12 weeks

$1,640.00, subject to change for Summer 2023
$1,230.00, subject to change for Summer 2023

Full Summer Contract

(May 15 - Aug 20)

For students with active Spring 2023 and 2023-2024 housing applications only

$1,940.00, subject to change for Summer 2023
$1,455.00, subject to change for Summer 2023

Interim Housing


(August 4 - August 20)

For active Summer 2023 students whose session ends on August 4 and have an active 2023-2024 housing application only

$300.00, subject to change for Summer 2023
$225.00, subject to change for Summer 2023
Summer 2023 Housing Dates are subject to change based on the 2023-2024 academic year calendar.
All residence halls have a $15 Social Fee established by the Residence Hall Association, which is assessed in conjunction with room and board payments each semester. The Social Fee is assessed to every student living in the residence halls and is nonrefundable. Summer Housing fees include ResNet Internet service and cable.
Summer Housing fees will be billed in full to the resident's MyInfo account.
Summer Staff

Resident Advisor
The Summer Resident Advisor (RA) facilitates and promotes a positive community within the residence halls. RAs are peer "helpers" and assist in the growth and development of students as well as assisting them in maximizing their college experience. RAs serve as a liaison between the University Student Housing and University Food Services administration and students in the residence halls. Summer RAs have a great deal of administrative responsibilities and deal with an extremely diverse and transitory population. Short-term community development efforts are a focus in the summer due to the nature of the residents. Additionally, summer RAs have the opportunity to work the hall front desk up to 15 paid hours a week and assist with University Student Housing Tours.

Summer Conference Assistant
The Summer Confernece Assistants (SCAs) are hired full time to manage the summer housing operations. Summer Confernece Assistants work closely with the Program Manager, Conference and Event Services staff, University Student Housing staff, and each other to ensure a high level of customer service is provided. Summer Conference Assistants are hired in February and start training one to two hours per week immediately, then work full time from May-August. There will be additional night/evening hours expected for conference check-ins, on-call duty, etc.

Summer Desk Clerk
The Desk Clerks (DCs) are student employees who work in the residence halls and summer conferencing halls helping residents and guests with anything they may need. Front desks are the hub of services and activity in each residence hall. Desk Clerks are the primary customer service agent at the desk, provide administrative support and monitor the safety and security of the building. Convenience of working where they live, fun and supportive coworkers and supervisors, and interacting with other students are the top reasons why desk clerks say they enjoy their job.