LS 391: American Myth, Memory, & Monuments
Course Description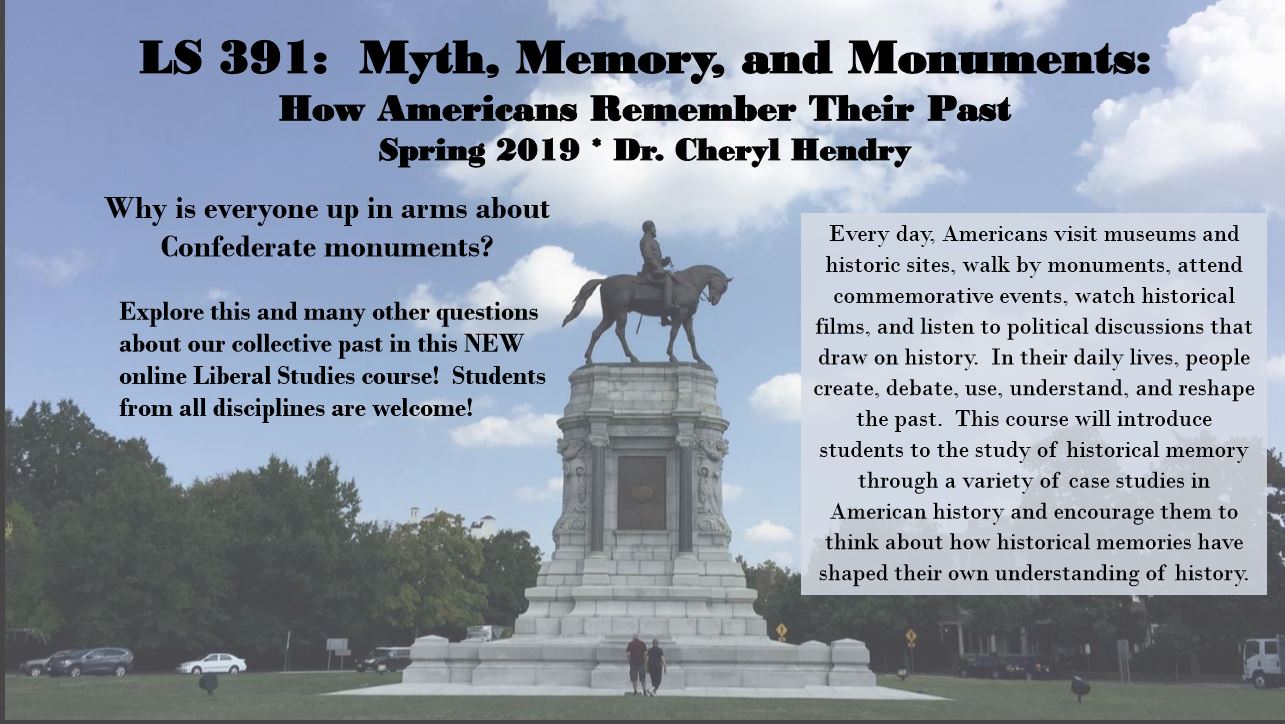 Every day, Americans visit museums and historic sites, walk by monuments, attend commemorative events, watch historical films, and listen to political discussions that draw on history. In their daily lives, people create, debate, use, understand, and reshape the past. This course will introduce students to the study of historical memory through a variety of case studies in American history and encourage them to think about how historical memories have shaped their own understanding of history.
Meeting Place and Times
Online
Instructor(s)
Dr. Cheryl Hendry
Prerequisites
University Seminar and sophomore standing.
Tuition and Fees
If you are accepted into a qualified online program, see the appropriate MSU Online Only Tuition and Fee table.
If you are also taking a face-to-face course, please refer to the MSU Fee Schedules.
Required Books/Materials
• Kenneth E. Foote, Shadowed Ground: America's Landscapes of Violence and Tragedy, 2003.
ISBN: 0292705255
• David W. Grua, Surviving Wounded Knee: The Lakotas and the Politics of Memory, 2016.
ISBN: 019024903X
• James W. Loewen, Lies My Teacher Told Me: Everything Your American History Textbook Got Wrong, 2018
Computer Requirements:
Internet access
A device and browser that pass the system check for Brightspace LE, MSU's learning management system.
For More Information
For course information: Please contact Cheryl Hendry at [email protected].
How to Register
You must be accepted as a student to Montana State University to take this course.
Learn how to apply.
After your application has been accepted, you will register via MSU's online registration system, MyInfo.
Registration requires a PIN. Learn how to find your PIN.
Once you have your PIN, learn how to register through MyInfo.