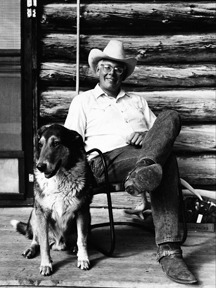 Bill Yellowtail grew up on his family's cattle ranch on the Crow Indian Reservation in Montana. Holding a degree in geography from Dartmouth College, Bill has been a rancher, educator, fishing guide, Montana State Senator and congressional candidate. An expert canoeist and fly fisherman, he was named Angler of the Year for 1991 by Fly Rod and Reel magazine.
He served as Regional Administrator for the U.S. Environmental Protection Agency during the Clinton administration, with responsibility for six western states and 27 Indian Tribes. Bill received the Dartmouth Environmental Network's 1994 annual award in recognition of his outstanding contributions to protection of the environment, and he received the Mary G. Ross Award for exemplary service from the Council of Energy Resource Tribes in 1999.
He serves on the Boards of Directors of Humanities Montana, the Burton K. Wheeler Center and the National Audubon Society.