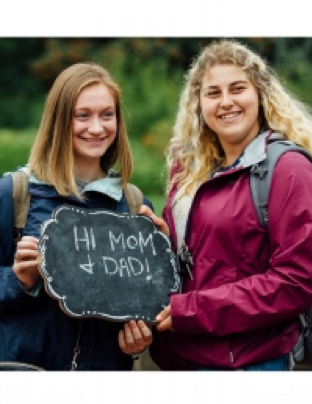 Dear Bobcat Parent and Family Members,
What a terrific week to be on campus. I trust that all of you who made the trip with your student, had safe travels home. Last Wednesday we moved in over 3,000 incoming students who later enjoyed ba dinner of regional Montana fare in the Romney Oval. Although the air was a bit smoky, it was a perfect day otherwise with good-naturedly cooperation by all. I tip my hat to my colleague James Tobin, MSU Culinary Services, and all the hard-working staff in MSU Residence Life who made Move-In Day a tremendous success.
Thursday night at Convocation ceremonies s ASMSU President Taylor Blossom welcomed our incoming class of 2022 and nearly 3,500 parents and community members to the Brick Breeden fieldhouse. President Waded Cruzado followed, with her message of grit, resiliency and promise. She also reminded our incoming students that she expects to see each of them cross the same MSU stage in four years when they graduate.
The keynote speaker, Dr. Michael Sandel, challenged our students to not shy away from difficult or controversial conversations during their college experience. Dr. Sandel's message reminded us all how important civil discourse isr especially when ideas and points of view differ. It was ea hopeful message, rooted in the belief that we can "rediscover the lost form of democratic argument by cultivating the art of listening." oWe're here to prepare students to meet that challenge.
Classes started on Monday! For the first time in over a decade, I too, will be back in the college classroom this semester. I will be teaching an honors seminar this fall called "Text and Critics." Needless to say, I'm excited to meet my students this week.
And kick-off for the first Bobcat football home game is Thursday night--the annual MSU Gold Rush. Tickets are FREE for the first 4,000 students who can upload a ticket to their Cat Cards by going to MSU student tickets.
Finally, please check in with your student before the Labor Day weekend. Our students are known for working hard and playing hard. Many will head to nearby rivers and lakes or adventure into the mountains over the long weekend, and it's important to make sure they have made appropriate plans to play/stay safe before they head out.
Warm regards,
Matthew R. Caires,
Dean of Students
Bobcat Parent & Family Program
174 Strand Union Building | P.O. Box 174220 | Bozeman, MT 59717
www.montana.edu/parents | [email protected] | 406-994-7359