Dear Bobcat parent and family members,
Welcome, all new and returning parents, to Montana State University! You are receiving this email from me today because you are connected to a currently enrolled MSU student. It's a pleasure to welcome you into our academic community.
If we haven't had a chance to meet in past years or at a recent orientation session, my name is Matthew (Matt) Caires, and I serve as the dean of students at MSU, a position I've held for the past 11 years. As dean of students, it is my job to help create a safe, healthy and engaging student life experience on our campus for your student.
At Montana State, we view parents and family members as partners. We want to work with you to support your student through their college years on their path to graduation and their journey (and wild ride) into adulthood.
In this spirit of partnership, I plan to email you updates throughout the academic year about campus activities, resources and important upcoming deadlines. Please know that this same information is distributed to students through a variety of channels. As we begin the fall semester, I will send messages once or twice a week, but the frequency will taper off as we settle into the academic year.
As we prepare to welcome students to campus and for the start of classes on Wednesday, Aug. 24, here's some information and contacts you might find helpful. First, if your student will be living on-campus, they need to be signed up for a move-in day and time through the Fall 2022 Move-In Weekend website. Move-in Weekend is scheduled for Aug. 19-23.
Next, if you or your student have questions about course registration, please get in touch with the Office of the Registrar. Tony Campeau and his staff are there to answer questions and help with the process.
Finally, my colleague, James Broscheit, director of Financial Aid Services, asked me to share a few tips. If your student is eligible for financial aid, and you would like access to detailed information about their financial aid package and student accounts, please make sure your student has signed the "Authorization to Release Financial Information" form. This form is required to comply with the Family Educational Rights and Privacy Act (FERPA). Without it, representatives in Financial Aid can discuss general topics but cannot discuss the specifics of your student's account.
Director Broscheit also encourages you to sit down with your student and review their financial aid information together before the start of the school year. Financial aid requirements and award information are available through the MyInfo portal. If you need to reach out to Financial Aid Services, please contact the office together to facilitate communication and understanding for all parties.
We know that the investment in higher education can be financially challenging, and navigating financial aid can be confusing. Director Broscheit and his staff are available to help you and your student understand your options and ensure there are no surprises. For more information, call their office at 406-994-2845 or email [email protected]
One final note: I understand the range of emotions you may be experiencing as your student moves away from home to live on campus or elsewhere in town. This is especially true if you're sending a student off to college for the first time or if it's your youngest child and you're soon to be an empty nester. This wonderful Washington Post article offers some wisdom (and hopefully some relief) for parents sending their child off to college.
Please remember that we are here to support you and your student. If we can offer further assistance or guidance, do not hesitate to reply to my emails, visit our Bobcat Parent and Family website or call 406-994-2826. It's going to be a great fall!
Kind regards,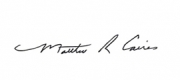 Matthew R. Caires
Dean of Students
P.S. Student Health Partners suggests that if you have COVID home test kits or can obtain them, please consider sending a few with your student. Having tests available in the event your student feels symptomatic is one way we can work together for a healthy fall semester. Free tests can be acquired at www.covid.gov/tests.