Hello, Bobcat parent and family members,
There's no question that the fall semester is right around the corner. There are more cars on Bozeman streets and at local trailheads. Stores popular with students, such as Target and REI, and local restaurants are busy. Your student may have already arrived in Bozeman or is on their way to Montana. We're certainly seeing cars stuffed to the gills with skis, snowboards and bikes tethered to the outside.
If your student is living in university housing and you're helping them get settled later this week, Aug. 19-23, please visit the Fall 2022 Move-In Weekend website. It contains helpful information, including directions and parking, addresses for shipping belongings, the check-in process and what to bring. Your student can also find links to bike and ski locker availability and micro-fridge rentals on the website.
Moving your student into their residence hall room can be physically and emotionally taxing, especially if they're a first-year student. And Move-In Weekend always seems to fall during the hottest time of the year, resulting in emotions rising along with the temperature. However, we want you to know that we'll be there to help you every step of the way.
An army of volunteers (literally) will be available at each residence hall to greet your student (and you), check them in, answer questions and help move belongings into rooms. We're so excited to welcome you and your student to campus.
If your student is living off-campus this year, especially if they are living off-campus for the first time, please encourage them to check out MSU's Off-Campus Life website. The website provides information on rental agreements, roommates, moving in and moving out, working with landlords and tenants, transportation, and health and safety concerns. There's also a section about how to be a good neighbor with a link to city of Bozeman resources. There are resources on the website and a link for scheduling an appointment for off-campus living advising if your student needs help finding a place to live in Bozeman or is dealing with challenging living circumstances.
Once your student settles into their housing, whether on-campus or off, we hope they'll participate in MSU Debut, a collection of co-curricular events and activities to engage students and showcase the best of our campus community. The MSU Debut series of events is designed to facilitate a successful transition to college, empowering students to contribute to the Bobcat community and to foster inclusion, integrity and belonging. We know that students who are involved on campus graduate at higher rates and earn higher GPAs as well. So please encourage your student to participate in MSU Debut.
I want to draw your attention to two MSU Debut events in particular. Catapalooza is scheduled for Monday, Aug. 22, on the Centennial Mall and Romney Oval. This annual MSU tradition is a day filled with music, free food and giveaways. There will be 350 campus groups and community vendors to welcome students as new members of the Bobcat and Bozeman communities.
On Tuesday, Aug. 23, we invite all new students to Bobcat Stadium for the annual "M" photo. Students will receive a free class of 2022 T-shirt when they arrive at the stadium. Following the "M" photo, an after-party will be held nearby on the practice fields along Kagy Boulevard.
Finally, if you travel to Bozeman with your student, we hope you will have a chance to enjoy all the community offers. Bozeman has a wide variety of cafes, coffee shops and restaurants offering everything from bison burgers and pasta to sushi and tacos. Many of these dining establishments and outstanding shopping opportunities are found in historic Downtown Bozeman. You can also explore the city's Main Street to the Mountains trail system or check out the Museum of the Rockies (also part of your university), featuring the world's largest collection of dinosaur fossils and research.
Kind regards,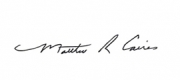 Matthew R. Caires
Dean of Students