Dear Bobcat parent and family members,
Welcome to all our new and returning parents of Montana State University students! You are receiving this email from me today because you are connected to a currently enrolled MSU student. It's always a pleasure to welcome parents and family members, like you, to our academic community at this time of year. And because we haven't seen many students in person since before spring break, we're looking very much forward to welcoming students back to their campus.
Over the summer months, President Cruzado has been sending regular emails about our safety precautions and other protocols in the MSU Roadmap for Fall 2020. If you have not received these updates, please register online with us, so we can be sure we have accurate contact information for you. For those of you who have newly enrolled students and want to review the President's messages to the campus community, you can find them online here.
At Montana State University, we believe parents and family members are our partners in student success. I will be sending email updates throughout the academic year about campus and safety resources, engagement opportunities and upcoming deadlines. Please know that we distribute this same information to students through a variety of channels. As we begin the fall semester, I will send messages once or twice a week, but as we settle into the academic year, the frequency will taper off.
Before the term begins, though, and for families utilizing financial aid, my colleague, James Broscheit, Director of Financial Aid Services, has asked me to encourage you to check in with his office if you haven't already. We understand that this investment in your student's education can be financially challenging. James and his staff of advisors are there to help you and your student understand your options and make sure there are no surprises. Call the office at (406) 994-2845 or email [email protected].
I hope, despite how Summer 2020 will be remembered, that you, your student and family have discovered a few silver linings that have provided some respite through this trying time. For my family, we've remained close to home, cherishing time with our 5-month old and almost 3-year-old daughters. I had great advice from a MSU parent two years ago about having young kids: The days are long, but the years are short.
On that note, and recognizing that the transition to college is often emotional for many parents and families, I want to share with you a funny yet touching article from a parent that I think will hit home for many of you, and most especially those of you sending your student off to college for the first time.
This fall semester will be different in many ways as we make our best effort to keep our academic community healthy and safe with social distancing measures, masks and Clean Cat kits. Nevertheless, our commitment to engage with your student and support their educational journey at MSU remains as steadfast as ever. As always, we are here to support you and your student. If we can offer any guidance, do not hesitate to email me directly, contact us at [email protected] or call (406) 994-2826.
Kind regards,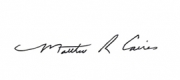 Matthew R. Caires
Dean of Students