Dear Bobcat parent and family members,
Some of you received an email yesterday from MSU Residence Life that outlined the process for new and returning students moving into the residence halls. For those who did not receive this email because you have an upper-class student or your student is living off campus, let me tell you a little bit about how things have changed this year with our move-in process.
This year, instead of the traditional "Move-In Day," MSU will offer opportunities for students to move their belongings into the residence halls in designated times throughout next week, Aug. 10-16. Students must sign-up for a move-in time in advance through the Fall Move-In Scheduler webpage. Students and their parents will be allowed two hours to move-in, and MSU volunteers will be onsite to direct families and provide sanitized moving carts. Due to virus precautions, volunteers cannot help families move items this year, and the number of people allowed inside the residence halls will be limited to two family members or guests to help.
Face coverings are required for all students, parents and other guests while inside MSU buildings and throughout the move-in process. The Office of the Commissioner of Higher Education has issued guidelines on face coveringsfrom the MUS Health Fall 2020 Task Force. You can read more about our face covering requirements on MSU's Roadmap for Fall 2020.
I often receive the question on how MSU plans to enforce our face covering requirement this year. At the start of the semester and throughout the academic year, I will be reminding our students that they have agreed to adhere to all policies that are a part of MSU's Code of Student Conduct. This includes our housing policies in the Residence Life handbook. Our face covering requirement will be enforced in the residence halls, in campus buildings and in classrooms and labs. We will be emphasizing education and voluntary compliance on campus, while communicating our expectations to students as the first step in our enforcement efforts. Ongoing and willful non-compliance will result in a report to my office with possible code charges to follow.
Ultimately, students who do not adhere to our face covering requirement (or other university policies) will be at risk of forfeiting their enrollment on campus. In my email to you next week, I will go into detail about the university's student conduct process and how we balance student rights with student responsibilities.
This academic year, all of us on campus are going to have to work together with a heightened sense of responsibility to reduce the risk for each other as students and employees. I know our students are up to facing this challenge. The caliber of our students is one of the reasons why I work for MSU.
Kind regards,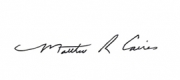 Matthew R. Caires
Dean of Students