Dear Bobcat parent and family members,
Finals week--It's always a bittersweet time on campus. We love seeing the students who are so excited at the end of their finals and their anticipation to get home. Yet, I always feel a twinge of sadness when students cross the stage during Commencement after shaking the President's hand and receiving their degree. We're thrilled for their accomplishments, but we will miss them on campus.
For those parents and families coming to town for Commencement, you can add more excitement to the weekend festivities as our Bobcat football team is hosting an FCS quarterfinal playoff game on Friday at 6:00 p.m. The Bobcats take on Austin Peay State University from Tennessee. Admission to the game is free for MSU students, and they can purchase unlimited buddy pass tickets for friends and family for just $10. The combination of the football game and commencement weekend will impact parking, so if you plan to be here, please visit MSU Parking Services' event weblink.
Here's a reminder for those students who will fly home and leave their car in Bozeman over the break. Free parking in specific lots is offered on campus. Students should not leave their vehicles parked on streets in the city or non-authorized lots on campus. Students can find helpful parking reminders from our partners in the City of Bozeman.
Two important talking points with your student while they are home for the holidays:
Inquire if they've applied for scholarships yet. If not, remind them how to do so. We now have a centralized scholarship application process that we call Cat $cholarships, and applying has never been easier.
Another great way to help pay for school is by serving as a Resident Assistant (RA). Students who work as RAs live in our residence halls and are responsible for building community, facilitating programs, and enforcing student conduct. RAs are compensated with free room and board, as well as a monthly stipend. Students can apply until the end of December and can contact Katie DeVore for additional information.
Finally, I want to take a moment to thank each and every one of you for reading and responding to my email messages throughout the semester. As you've heard me say: It takes a village to support a student through graduation. Your continued partnership, dedication and care, and some good old-fashioned parenting go a long way to facilitating the success of your student. Thank you!
This is our 15th message this semester, and in case you missed any of them, or want to go back and find a link to a resource, we've posted the communication series online. We'll take a break now until after the holidays and be back in touch as we gear up for Spring 2020.
Happy Holidays to you and yours,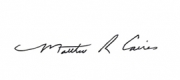 Matthew Caires
Dean of Students