Dear Bobcat parent and family members,
Last week I wrote about the support services we have available for students to help them manage depression, anxiety and the pressure of finals approaching. Finding housing can add additional stress. To help ease this transition and support students as they consider housing options for the future, we provide you and your student information resources about moving off-campus through the MSU Off-Campus Living website.
Sometime during the upcoming winter break, please ask your student about their housing plans for next fall. Do they want to come back and live on campus? Or do they intend to find a roommate or two and live off-campus? The Off-Campus Living website can help students find roommates and apartments to rent, but all of this takes time and effort.
We also want to help you support your student with challenges related to finding housing. Each year, we offer an Off-Campus Housing webinar specifically for parents and family members. Hosted by MSU Student Housing and local property management and real estate companies, the next webinar is scheduled for Jan. 25 at 6 p.m. The webinar will address the pros and cons of moving off-campus, a checklist of points to consider and aspects of being a good neighbor in Bozeman.
We'll send a registration link in a future email, but, in the meantime, check out the resources and tips on our website from last summer's webinar. Starting to work on the housing transition early will be the key to your student's success -- and to alleviating stress later on.
At this point in the fall semester, we communicate with students on topics related to the approaching winter break. Will your student be leaving a car in Bozeman during the break? If so, MSU provides free long-term parking for all students, faculty and staff. From Wednesday, Dec. 15 through Tuesday, Jan. 18, no permit will be needed to park in Bison Lot 26 or Bobcat Lot 18. Both lots are located just west of Hyalite Hall.
By moving their vehicle to MSU's long-term parking, your student helps with snow removal in MSU parking lots and Bozeman city streets during the winter. Returning to campus to find one's car buried or encrusted with ice by snowplows is not very welcoming and can be potentially damaging for the car as well. Here are few things for your student to remember:
If their car will be parked in the same location on campus for more than three days in a row, it must be moved to accommodate snow removal. If not, the vehicle may be towed at the owner's expense.
A parking permit is required for lots other than the two referenced above.
Some lots may be closed periodically for snow removal.
Covered parking is available in the parking garage for $12 per day. Those permits can be purchased at the

MSU Parking Portal.
Questions about parking can be directed to 406-994-1723 or [email protected].
I'll be in touch one more time before we close out this semester.
Warm regards,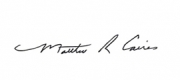 Matthew R. Caires
Dean of Students