Dear Bobcat parent and family members,
I have heard from many of you over the last two weeks regarding your concerns about the coronavirus outbreak. Please continue to reference the University Health Partners website for additional information. I know that another source of concern for many of you are the weather conditions in Bozeman and the icy roads and sidewalks that have to be navigated by our students.
We have received a lot of new snow in the last five days with warmer than usual temps, which makes for sloppy snow that turns icy overnight. Our groundskeepers work diligently to clear snow, but walkways, paths and roads through and around campus may be snowy, rutted or icy this week and for the foreseeable future.
We would appreciate a timely reminder to your student of some winter safety precautions. First, allow extra time for all commutes and slow down--especially if traveling on wheels. When roads are icy, it takes nearly twice as long to stop for pedestrians or at traffic signs. Second, if your student is a bike commuter, fenders and studded tires make a world of difference this time of year. Third, for on-campus students who walk to class, I highly recommend boots and additional traction--I prefer YakTrax, but runners I know who use spikes prefer DueNorth. There are dozens of other brands on the market for nearly every need.
Many of us who watched the Super Bowl were reminded by one of the clever commercials that "all people are tax people." If you think your student could use some support as a filing taxpayer, you might remind them about MSU's Volunteer Income Tax Assistance (VITA) program. Jake Jabs College of Business and Entrepreneurship accounting students stand ready to provide assistance with basic federal and state tax returns. They are currently taking appointments three days/week through March 11.
The other major development on campus this week is MSU's Giving Day--Feb. 13-14. Though there are 50-some campus projects and causes worthy of support, I am involved with the ASMSU Student Memorial Project. I am so proud of the ASMSU senators Kacie Cummings, Rachel Schmidt, Allison Reinhardt, Amelia Fountain and Ambika Murali, who are the driving force behind making the renovation to the Student Memorial a reality. Watch their video to hear students explain why the ASMSU Student Memorial Project is important and what it means to them.
We're all very excited for you, and our extended MSU family to have the opportunity to learn about and support so many unique campus projects and causes.
Stay warm and dry,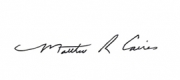 Matthew Caires
Dean of Students
P.S. Some of you may have spoken with or been helped by Dorothy Ruoff, a student leader and worker in the Dean of Students' office. She's one of the 40 students and their campus mentors being recognized this year at the annual Awards for Excellence. Congratulations to all the students (and their parents) being honored next Tuesday at this event!