Dear Bobcat parent and family members,
In last week's message, I highlighted a number of the technologies we use to help improve the safety and well-being of our students, faculty and staff. We've been steadily advancing our use of these technologies at MSU in recent years. One technology we currently do not use, however, is the increasing number of "tracking" systems available to know more on the whereabouts of our students.
A recent article in the Washington Post describes how other universities are using various types of apps to track student attendance in classes and other support services. While I recognize some of the advantages of using these tracking apps, I remain skeptical about their long-term benefits for students. After all, one of the attributes traditional-age students gain with a college education is a structure with built-in responsibilities, expectations and deadlines. The learning curve is steeper for some, but that self-efficacy factor can be a significant aspect of moving into adulthood.
We do use opt-in technology to encourage student engagement through ChampChange--a program designed to foster connectivity with the university. ChampChange provides incentive for students to utilize academic resources, attend sporting events, lectures and many other activities on campus.
MSU has a variety of other cutting-edge technologies available to students--and the public--that I want to share with you. For example, our TEAL Classrooms are designed to support an active learning style that encourages students to engage with one another and solve problems collaboratively. The teacher becomes more of a facilitator and walks around between tables.
MSU's ScholarWorks is an open access repository that contains digital versions of every master's thesis and doctoral dissertation ever published by students at MSU, back to 1902! It also contains research articles and other publications produced by MSU faculty and undergraduate research projects. In total, there are nearly 15,000 research-related publications produced at MSU that may be viewed or downloaded free of charge.
Another incredible technology is our Acoustic Atlas, a natural sound archive that contains over 3,000 recordings of birds, animals, and soundscapes of the Greater Yellowstone Ecosystem and the West. Collections of animal sounds and other environmental recordings have a wide range of applications, and are important to many disciplines, including biology, the media arts, human health, education, engineering, and the social sciences. Yet unlike photographs or video and film, natural sound recordings are found in relatively few formal collections, and audio recordings of many species in the United States are rare, hard to find, or are not available online.
And, our Virtual Discovery Space is MSU's immersive visualization and virtual reality environment. Equipped with four large screens and virtual reality, this space is located on the first floor of the Library. The Virtual Discovery Space is ideal for exploring virtual reality, teaching and learning, viewing hi-resolution images and videos, collaborating with colleagues around the world and much more.
Finally, though not technology related, I am thrilled to share with you that I'll be taking the next three weeks off as we're expecting our second child to arrive in the coming days. My friend and colleague Tony Campeau, MSU Registrar, will be serving as the acting dean of students during my time away. He will be in touch with messages next month on several topics, including those directly related to his office, like summer sessions, graduation information and priority registration for next fall.
Kind regards,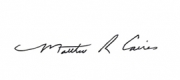 Matthew Caires
Dean of Students
P.S. For parent and family members in the Bozeman area, there's a fabulous opportunity, Saturday evening, Feb. 29, to hear MSU faculty and students perform together in the premiere of an original piano ensemble piece by award-winning composer, Eric Funk. Find more info on the 2020 Pianoforte Recital here.