Dear Bobcat parent and family members,
Our students are back! And just like that, the MSU campus and the town of Bozeman are transformed by a flurry of energy and activity. Of course, the lift lines were longer at Bridger Bowl this weekend with the return of the students and after the recent snowfall. We're excited to have students back on campus and classes in session again.
Given that students have just arrived, it may seem odd to launch into a discussion about spring break, but I want to make sure you and your student are tracking on a great opportunity: MSU Spring BreaksAway trips. Organized by the Office of Student Engagement, registration for March 2020 trips opens Monday, January 27.
On MSU BreaksAway trips, students volunteer their time and travel to different communities around the West to work on projects that help meet local needs. There will also be a group that stays here in Bozeman to work on a Habitat for Humanity project. Each host community and project offer opportunities for students to learn about the diverse challenges that face communities around our country. In addition, MSU students experience the tangible results of their work in these communities while gaining new skills, perspectives and relationships.
The MSU BreaksAway program has been engaging students since 1996. Last spring 32 students served 846 hours in four different locations across the U.S., impacting over 4,000 individuals and various rescue animals. You and your student can learn more about the program online and see this year's project descriptions. If you have questions, please contact the program manager, Heidi Worley at (406) 994-6872.
At the beginning of each semester and for the benefit of parents who are new to our email communications, I have two important safety related messages: Please take a minute and sign up for the MSU Alert program. MSU sends three different types of emergency communications, depending on the type of situation occurring on or campus. All students are automatically enrolled in MSU Alert, but parent and family members must opt in. To learn more about MSU Alert and how you can join, please see our MSU Alert website or contact Hayley Tuggle. We also encourage parents to download SafeCats, our safety mobile app.
Warm regards,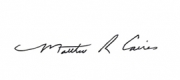 Matthew Caires
Dean of Students