Dear Bobcat parent and family members,
Happy New Year! I want to extend a warm welcome to those of you with new students beginning classes at MSU on Wednesday, Jan. 18. This is the first email communication this semester to keep you in the loop with relevant information and updates on campus events this spring. Welcome to the Bobcat family!
If your student is returning to campus, I hope you had a wonderful winter break with many opportunities to spend meaningful time with them. I also hope that our students are returning to campus rested, recharged, and ready to continue their journey toward a college degree.
As always, I encourage you to reply to these emails if you have questions, comments, or concerns for your student. I'll do my best to provide answers and assistance or connect you with other staff or resources on campus for help.
Here are a few things to keep in mind as we approach the start of the spring semester. First, it's not too late if your student hasn't registered for spring semester courses! Students have until Jan. 24 to self-add courses online and until Jan. 31 to add courses with the approval of their advisor and the instructor. They will need to talk with their advisor before they can register. If they don't know who their advisor is, instructions on the Advisor Info page will help them find that information in MyInfo.
In addition, if your student isn't sure they've registered for the right courses or are thinking about changing majors, we have people they can talk with to ensure that their course selection is optimized for their degree track. The Registrar's website provides more information about registering and adding courses.
Of course, registering for the spring semester or adding and dropping courses can impact financial aid. Before the semester begins, we encourage you to sit down with your student and review their financial aid information. Financial aid requirements and award information are available through the MyInfo portal. If you need to reach out to Financial Aid Services, please contact the office together to facilitate communication and understanding for all parties.
We know that investing in higher education can be financially challenging, and navigating financial aid can be confusing. However, Financial Aid Services director James Broscheit and his team are available to help you and your student understand your options and ensure there are no surprises. For more information, call their office at 406-994-2845 or email [email protected].
Finally, if your student skis at Bridger Bowl, please make sure they know about the free daily bus service between the SUB at MSU and the mountain. This safe and economical option helps alleviate traffic to Bridger Bowl and parking constraints at the ski area and keeps our mountain air clean. The daily schedule and other details are available on the Bridger Bowl website.
We can't wait to welcome students back to campus next week. It's going to be a great semester!
Take care,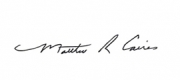 Matthew R. Caires
Dean of Students