Dear Bobcat parent and family members,
Back in September, I mentioned the deadline for students adding and dropping classes without receiving a "W" on their transcript was imminent. Since September 16, students have still been able to withdraw from classes, but that window closes next Tuesday, November 19. Students who follow the procedure to drop courses by the 19th can receive a W grade.
If your student has talked about a class they have been struggling with, it may be worth checking in to see if they've spoken with their professor, an advisor or utilized an academic help center or tutoring services. Dropping a class isn't uncommon but keeping the Ws to a minimum is the objective. This starts with a sensible and thoughtful approach to the class registration process for the following term and always with an eye on the target: a degree in four years.
Speaking of which, if your student was planning to take advantage of priority registration for the spring 2020 term, they should have met or have an appointment scheduled with their academic advisor. Here's another set of questions to ask over the Thanksgiving holiday: How did the meeting go with your academic advisor? Did you register for the spring term? Was there a class last semester that you found unexpectedly interesting? If so, are you considering pursuing the subject in another course next spring?
You can read more about academic advising on the Spring 2020 registration webpage.
Around campus, it's the height of the Can the Griz food drive to benefit the Gallatin County Food Bank. Students are participating in residence hall, club and team challenges and seek donations in the community as well. The effort is a wonderful way to leverage Montana's biggest rivalry: The annual Brawl of the Wild.
I'll be in touch next week with some health and safety travel tips before the Thanksgiving holiday.
Kind regards,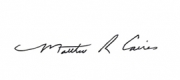 Matthew Caires
Dean of Students
P.S. Did you know there are nearly a hundred Cat-Griz watch parties scheduled across the country? If you want to join the festivities and connect with folks with a connection to Montana, check out the list of locations. There may be one closer to home than you think.