Dear Bobcat parent and family members,
If "Cat vs. Griz" was listed in Webster's Dictionary, I suspect it would read something like this:
Cat vs. Griz (noun) - A Montana tradition. An American college football game between rivals Montana State University (Bobcats) and the University of Montana (Grizzlies).
Truth is: The Cat-Griz football game (aka, the Brawl of the Wild) is the single largest annual event in the State of Montana. In the absence of professional athletic teams in Montana, the state literally comes to a standstill when the Bobcats take on the Grizzlies. The winner of the game gets to march off the field with the coveted Great Divide Trophy, with bragging rights throughout the year to follow.
According to Kerry Hanson, V.P. for Alumni Engagement at the MSU Alumni Foundation, this is the 119th meeting of the teams stretching back to 1897. Though there were a few years during WWII when the matchup was cancelled, the Montana game is among the NCAA's oldest annual rivalries. And while the Grizzles lead the series in overall wins, MSU has prevailed the last three years. In fact, MSU Head Football Coach Jeff Choate has never lost a Cat-Griz game.
This past Monday, all available student tickets for the game were gobbled up in less than an hour. We are expecting over 4,200 MSU students to attend the game on Saturday. I am reminding students all week that while UM is our biggest rival, we need to show our guests from Missoula respect. The University has a Code of Student Conduct and the Bobcat Code of a Champion, and students who violate our fan conduct policy may have their ticket privileges revoked for part or all of next season.
After the game festivities this weekend, students are expected to be in classes the following Monday and Tuesday. There are no classes next Wednesday, to give students time to travel and be home with family or with friends for the Thanksgiving holiday. If your student is driving home for the break, please encourage them to do a few safety checks prior to leaving Bozeman:
Check the engine oil and tire pressures on all four tires;
Make sure wiper blades are not brittle or worn and in good working order;
Check the Montana Department of Transportation road report;
Carry emergency items like jumper cables, a tow strap, extra water, knit hat and hand warmer packets in the car; and
Communicate their travel plans with friends and family members ahead of time.
Here's to safe travels and a restful and enjoyable holiday break for you and your family.
Go 'Cats Go,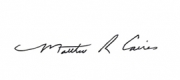 Matthew Caires
Dean of Students
P.S. The Office of Student Engagements has organized an airport shuttle service for students flying home and back for the holiday. Students can sign up for $10 one-way rides on Nov. 26, 27, 30 and Dec. 1.