Dear Bobcat parent and family members,
One of the main reasons I've chosen a career to work on a university campus is the vibe you get from the students. This is especially true during election seasons. In a typical year, MSU hosts candidate debates, and Shroyer Gym is transformed into a polling place. Student organizations sponsor election forums, voter registration drives and fun election-related events. Across campus, students set up and staff tables covered in literature and swag to advocate for their favorite issue or candidate.
Of course, in this atypical year there are visibly fewer signs of civic engagement and political discourse compared to years past. Yet, despite these unsettling and stressful times, our amazingly resilient students press on, continuing to explore their roles and responsibilities as participating citizens in the democratic process through new and innovative channels. An example of this was the virtual "Make Your Vote Count" forum co-sponsored by ASMSU. MSU students are challenging the divisiveness by engaging in lively, yet respectful, conversation and by joining with citizens across the country in a singular and unifying cause: exercising their right to vote.
I had the chance to attend a virtual ASMSU Senate meeting last week. In case you find yourself worried about the direction of our country, let me reassure you: We are in good hands with our up and coming student leaders. Student leaders like Allison Reinhardt, Margaret Davies, Tal Rogers and Griffin Smith are working every day to make MSU and Bozeman a better place to live and go to school.
In a hopeful sign for our democracy, MSU students' enthusiasm for participating in the 2020 election is shared by young voters across the state and country. A recent national poll of 18- to 29-year-olds conducted by the Institute of Politics at Harvard Kennedy School found that 63% of respondents indicated they would "definitely be voting" in 2020, compared to 47% responding to the same poll in 2016. And according to the Center for Information and Research on Civic Learning and Engagement (CIRCLE), by October 27, one week before Election Day 2020, 41,600 Montanans aged 18 to 29 had already cast their vote through early voting or submitting an absentee ballot as compared to 66,931 total votes cast by this group during the 2016 election. The data on how young voters are impacting this election is enlightening.
On Election Day 2020, our students will make us proud. Join me in appreciating your student and their peers across the country for their determination to participate in the democratic process this election season.
Sincerely,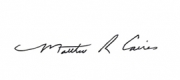 Matthew R. Caires
Dean of Students
P.S. On another patriotic front, Director of Veteran Services, Joe Schumacher is hosting an online event, Tuesday, Nov. 10 sharing about how MSU supports members of the military and their families.