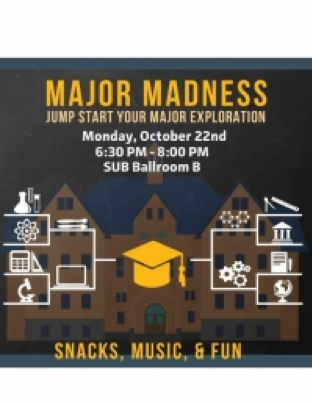 Dear Bobcat Parent and Family Members,
What an incredible Homecoming Weekend! In case you didn't hear, it snowed eight inches the morning of the Homecoming Parade. But, not even the winter weather could chill the enthusiasm for our Bobcats. It was great to have many of our alumni and friends back in town for the weekend.
We're halfway through the semester, and I have updates for you on academic, safety and wellbeing topics:
Academics: The semester is flying by and our advising staff and Registrar's Office are already gearing up for Spring. Starting next week, our faculty and advising staff will begin advising students on course registration that opens at the end of the month. If your student is still on the fence about declaring a major, we are offering Major Madness on Monday, October 22. This interactive speed-round style event is also for students who are set on their major but are curious and want to hear from their upper-division peers on what to expect in their 3rd and 4th years of study.
Campus Safety: In one of my previous emails, I told you about a variety of upcoming campus safety initiatives. The 2018 Annual Security and Fire Safety report is published on our website and available for you to read. Please don't hesitate to contact me if you have questions or concerns about our report.
In a recent conversation with the Bobcat Parents' Council, it was mentioned that not all members were aware of our MSU Alert program. Starting this fall, all MSU students are now automatically enrolled in MSU Alert by having a mobile phone number registered in our student information system. MSU parents and family members are also invited to join the MSU Alert program.
To register for MSU Alert, open a new text message on your phone. In the "To" section, enter 888-777 (just 888-777). In the message box type "montanastate" as one word. Hit send and you should receive a confirmation that your mobile phone has joined MSU Alert. MSU only uses the MSU Alert text system in the case of an emergency--you will never receive any commercial solicitations or campus updates via text message. If you have any problems with signing up for MSU Alert, don't hesitate to email Hayley Tuggle, MSU's Emergency Management Coordinator.
Student Wellbeing: And on the student wellness front, University Health Partners offers flu shot clinics throughout the fall and there are two more clinics this semester. We can't emphasize enough how good nutrition, enough sleep and regular exercise are critical to your student's academic success. On that note, this Hidden Brain podcast features a fascinating story and an interview with neuroscientist Matthew Walker about the mind and the importance of sleep--for all of us.
Warm Regards,
Matthew R. Caires
Dean of Students
P.S. For families in the Portland area, on Oct. 24, consider attending the Inside Engineering event to meet and hear from my colleague Dr. Brett Gunnink, Dean of the Norm Asbjornson College of Engineering.
Bobcat Parent & Family Program
174 Strand Union Building | P.O. Box 174220 | Bozeman, MT 59717
www.montana.edu/parents | [email protected] | 406-994-7359