Dear Bobcat parent and family members,
MSU Registrar, Tony Campeau, asked me to let you know that priority registration for current MSU students opens next week, October 28, and runs through November 14. He advises that all continuing students take advantage of priority registration to ensure they get the classes they need and a schedule they want. The registrar's office also recommends that students have their spring semester lined out before Thanksgiving break.
Prior to registering, students are required to meet with their academic advisor. In preparing to meet with their academic advisor, your student can review their degree progression and other potential paths online through DegreeWorks. The Academic Advising Center in Gaines Hall is also a resource for students who want to explore major options or are transitioning between majors. More details, including timetables for registering, can be found on the registration process webpage.
Pivoting to health and safety matters:
It's that time of year again. People everywhere, including my family, seem to be sniffling and coughing. Yesterday, University Health Partners (UHP) held a flu shot clinic in the SUB, but if your student missed it, there will be another flu shot clinic Tuesday, November 12. Students can also get a flu shot or receive other medical services during UHP's regular clinic hours.
Also, at this time of year, I'm compelled to talk about Halloween. If you're a first-year parent, you probably wondering, "Why Halloween?" The short answer: student safety. The longer answer: The festivities of All Hallows Eve land at another celebratory point in the fall term--surviving midterm exams--when most students have also gained some social confidence. That newly found confidence, combined with the revelry associated with Halloween, makes for one of the "biggest" weekends for campus alcohol and drug violations.
I hope you will find an opportunity to remind your student about simple ways they can protect themselves this Halloween. My top two recommends for students are to 1) go out with groups of friends they know and trust; 2) never accept a drink from someone they do not know. Then, along with planning for their costume, we encourage students to also plan for:
How they will get to, from and between events
How long they--with their group--intend to stay at events
What to do if they get separated from their group
We are proactive in many ways about this fall holiday, including promotion of our offer to assist student groups in planning safer social events. My staff and I, as well as MSU Police Chief Parrish and his officers, are also on high alert over the next week while students are donning costumes and warding off ghosts with friends into the wee hours.
Kind regards,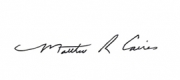 Matthew Caires
Dean of Students