This page is no longer updated. In March 2022, the President's Commission on the Status of University Women was re-launched as the the Gender Equity Alliance. The PCOSUW Awards are now the President's Awards for Gender Equity.
Student Awards
This award is designed to honor two graduate or undergraduate students who have worked to improve issues related to gender, equity, and diversity on any of MSU's four campuses.
2021 Lyla Brown (she/her)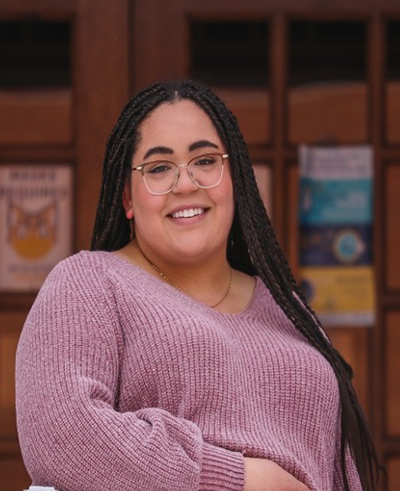 Lyla Brown will graduate this spring with a degree in Sociology-Criminology and minors in Psychology and Women's Gender & Sexuality Studies. Lyla has made the most of her years at MSU as a Program Coordinator for the Diversity and Inclusion Student Commons (DISC), student director of the Late Night Streamline bus service through ASMSU, a Resident Advisor, and a Sustained Dialogue moderator. She is co-founder and former President of the Black Student Union, a member of the African Student Association (ASA) and the Queer Straight Alliance (QSA). Lyla's honors include this year's MSU Homecoming Leadership Pillar Winner, recipient of Forward Montana's 25 under 25 Award, a Christy Foundation Scholarship Winner, a DISC Spirit Outstanding Student Award, and she is notably One of Nine African American Leaders in the Pacific Northwest. Lyla has co-presented several Women's Center Sack Lunch Seminars, one on Incarcerated Women and another titled: #BlackHairMatters. Her greatest passion and efforts while at MSU lie with social justice, and diversity, equity, and inclusion. After graduation, Lyla plans to enter into an Adult Education Master's program to facilitate educating adults about healthcare access.
2021 Mayuri Singh (she/her)
Mayuri Singh will graduate on May 1st with degrees in Chemical and Biological Engineering and a minor in biomedical engineering. During her time at MSU, she worked at the DISC with Sustained Dialogue as a dialogue moderator, leading discussions on diversity, equity, intersectional identities and mental health. Mayuri serves as Student Director of the Honor's Presents series and is ASMSU's Director of Diversity and Inclusion. Her work in Dr. Stephanie McCalla's lab focuses on disease diagnosis and biosensors, and she received funding for this research through INBRE. Mayuri is a member of the MSU BIPOC Action Planning Committee and a Diversity & Inclusion Ambassador. Mayuri has been recognized with an Undergraduate Scholars Program scholarship, an Honors College Dean's Excellence Scholarship, an Award for Excellence, and Septemviri. She has volunteered with the Montana Racial Equity Project, Planned Parenthood of MT, Compassion Project, Gallatin Valley Food Bank and Bozeman United for Racial Justice. She is a member of The American Institute of Chemical Engineers, the Society of Biological Engineers, and the Society of Women Engineers. After graduation, Mayuri will pursue a PhD in biomedical engineering and continue her work to improve equity and accessibility for all identities within the healthcare system. She will work to develop rapid diagnostic tools that are affordable and impartial for medical issues that disproportionately affect BIPOC and those in lower income areas.
Read about the previous awardees
President's Commission on the Status of University Women Award
This award is designed to honor an individual (faculty or staff leader) who has established a record of working to improve issues related to gender, equity, and diversity on any of MSU's four campuses.
2021 Rebecca Belou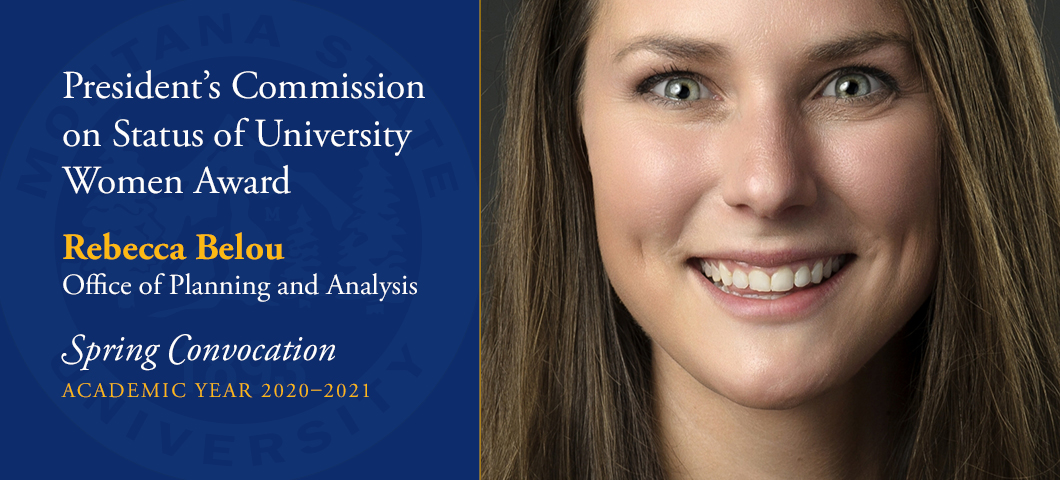 Rebecca Belou, senior data scientist in the Office of Planning and Analysis, has won the 2021 President's Commission on the Status of University Women Award. The award has an honorarium of $2,000.
Belou was hired as a research analyst in 2012 with part of her time dedicated as an equity analyst with MSU's ADVANCE Project TRACS grant. Since then, Belou has developed, maintained and grown MSU's analysis around issues related to gender and racial equity, diversity, and inclusion for students, staff and faculty. Her nominators say that by celebrating women and making information both accessible and useful, Belou has made gender equity issues more visible and shown effective policy and strategy solutions for addressing them.
Learn more about Rebecca Belou
Read about all of the 2021 awardees