President's Commission on the Status of University Women Award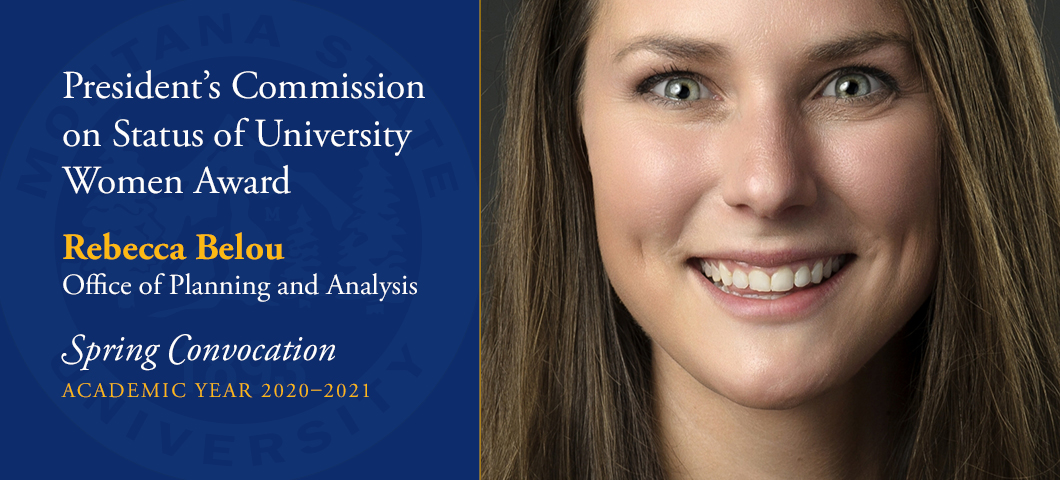 Rebecca Belou
Rebecca Belou, senior data scientist in the Office of Planning and Analysis, has won the 2021 President's Commission on the Status of University Women Award. The award has an honorarium of $2,000.
Belou was hired as a research analyst in 2012 with part of her time dedicated as an equity analyst with MSU's ADVANCE Project TRACS grant. Since then, Belou has developed, maintained and grown MSU's analysis around issues related to gender and racial equity, diversity, and inclusion for students, staff and faculty. Her nominators say that by celebrating women and making information both accessible and useful, Belou has made gender equity issues more visible and shown effective policy and strategy solutions for addressing them.
Belou was pivotal to the institution's influential NSF ADVANCE Institutional Transformation grant, as both co-author on peer-reviewed, published research and as a data scientist assessing institutional strategies to support women in STEM fields and beyond. Her work on developing a Faculty Diversity Interactive Dashboard drew praise from NSF ADVANCE review teams. The dashboard is now a baseline for how other institutions track their data.
Belou co-chaired the President's Commission on the Status of University Women and oversaw the 2017 celebration of 125 Extraordinary Ordinary Women of MSU. She developed and managed the review of departmental equity self-studies, first for ADVANCE and later for PCOSUW. She was the methodological and reporting point person on the university's 2018 Climate Survey, giving dozens of presentations and leading difficult conversations, which continue to inform diversity efforts across campus. She developed academic department dashboards that highlight gender and race diversity, which were used in program reviews for the first time this year. Belou also regularly publishes MSU's diversity indicators for students, faculty and staff, making MSU's data transparent and accessible to all.
"Effective analysis, assessment and reporting are necessary to understand our needs and develop solutions, but they are not sufficient," wrote a nominator. "Rebecca's leadership brings that analytical work to fruitful result, guiding us to data-informed policy decisions that improve issues related to gender, equity and diversity at Montana State."