Residence Life offers housing during the breaks when classes are not in session during Winter Break and Spring Break. Please see additional information below regarding each of the break periods.
Although the residence halls officially close during Winter Break students are able to stay on campus. There is an additional charge for all residence hall students who stay on campus during Winter Break housing (inclusive of Headwaters Complex). These costs are not assessed to students who do not utilize this service. Only authorized individuals are allowed in the residence halls during breaks, therefore guests are not permitted as this is a service that we can provide to hall residents only. Students staying on campus for Winter Break may be required to temporarily move during the break period.
If you have specific questions or concerns, please email break[email protected].
---
November 25, 2020 - January 6, 2021
Register for Winter Break Housing online through the Housing Portal!
Winter Break Registration will be available online through the Housing Portal in the Break Housing section as of September 22, 2020 at 9am.
All residence halls close for Winter Break on Wednesday, November 25, 2020 at 5:00 pm and remain closed through approximately Wednesday, January 6, 2021 at 12:00pm. Dates are subject to change.

Spring semester housing will begin on January 6, 2021 at 12pm and will be part of Spring semester fees.

Snowmester classes will be held November 30, 2020-January 8, 2021.
Spring semester classes will begin on January 11, 2021.
MSU Offices will be closed on the following days:

Thursday, November 26, 2020-Friday, November 27, 2020
Friday, December 25, 2020
Friday, January 1, 2021

The cost for Winter Break Housing is $25 per night. This will be billed to their student account.
Students who are not registered for Winter Break will need to vacate the residence halls by 5:00pm on Wednesday, November 25, 2020.
Some residence halls will remain available for Winter break housing with the possibility of more halls being available if there is enough demand and staff. Students living in halls that are closed for Winter Break may stay in temporary empty rooms during Winter break in available halls.
One Eleven will be open for a retail food operation during Winter Break and their hours can be found online at http://www.montana.edu/culinaryservices/retail.html. All other retail food operations and dining halls will be closed for Winter Break.

Miller Dining Commons and

Rendezvous Dining Pavilion will close at 7:00pm on Wednesday, November 25, 2020 and Rendezvous Dining Pavilion will re-open on Wednesday, January 6, 2021 for dinner.

Students leaving on-campus housing or MSU after the Fall 2020 semester are not eligible for Winter Break Housing and need to be checked-out of their rooms by 5:00pm on Wednesday, November 25, 2020.
Accommodations are for registered residents only, visitors, non-registered residents, and/or overnight guests are not permitted. This is inclusive of the ResLife Apartments and Headwaters Complex.
Mail may not be sorted, distributed, or delivered to halls for Winter Break depending on staffing. Please plan accordingly.
The terms of the Residence Life Contract and policies and procedures outlined in the Residence Hall Handbook and the MSU Student Code of Conduct will be in full effect. All policy violations discovered during this time will be documented and processed through the Residence Life conduct system.
If you have specific questions or concerns, please email break[email protected].
---
More Information about Snowmester can be found at https://www.montana.edu/snowmester/.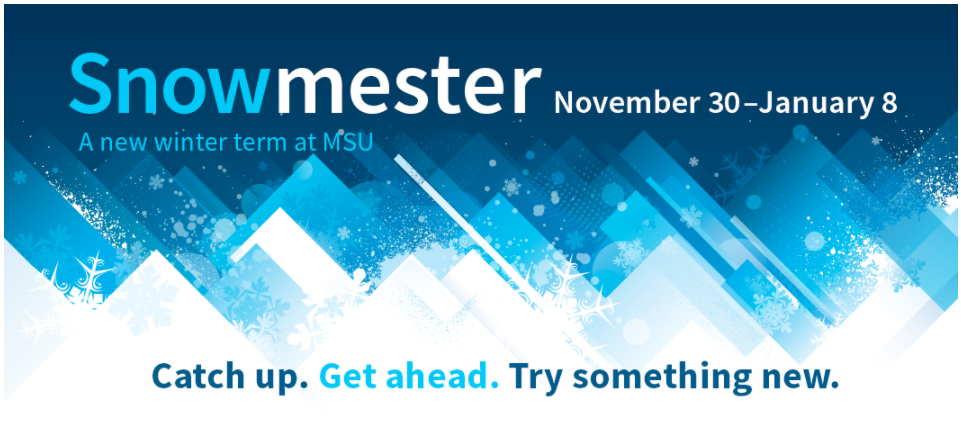 Updated 10/15/2020 - Dates and Information is subject to change and any changes will reflect on this page.