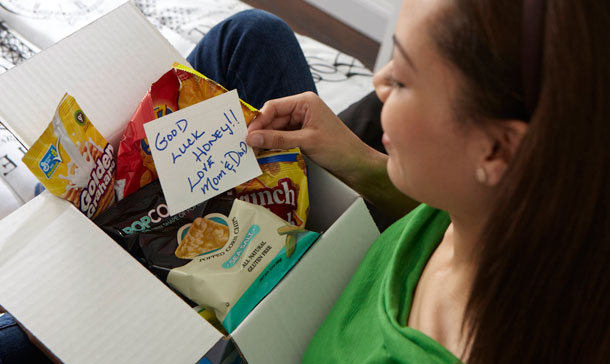 RHA is proud to be entering into it's 8th year partnered with On Campus Marketing (OCM) to provide quality care packages for parents and families to send to their students at Montana State University.
Look for letters in mid-July for the coming year as well as other opportunities to send a box of goodies near both final exam weeks. If you missed the letter, you can still order online!
Share your love and support all year long with the MSU care packageprogram. A care package is a great way to remind your student that their loved ones are thinking of them on a birthday, a holiday, and during final exams. A care package says it all.
Each of our care packages are loaded with all of your student's favorite snacks, including fresh baked cakes or cookies, fresh fruit, candy bars, and more! The best part is that you can include your own personal note to your student in every package. Don't just show them how much you care, tell them!
For years, Montana State University has been offering the care package program to every student. We know the perfect time to send each package throughout the semester, just when your student really needs a boost.
Our goal, this year, is to ensure that every student receives at least one care package.
Your student is practically guaranteed to call home and say thank you when their package arrives. We offer a wide variety of options that will fit any budget and satisfy your student's cravings. We even have gluten-free and peanut-free packages to choose from.