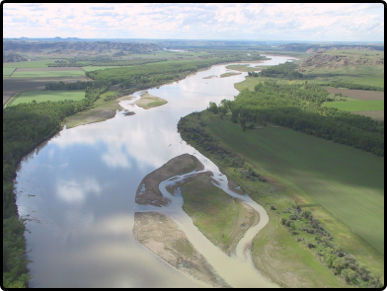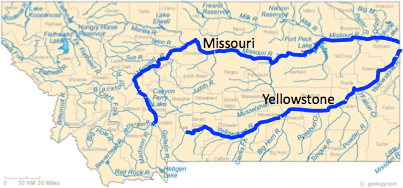 The Yellowstone and Missouri Rivers both drain large portions of Montana, and flow in parallel from the western part of the state to just past the eastern border. While the Yellowstone remains one of the largest free-flowing rivers in the U.S., the Missouri has been fragmented and regulated by large dams and reservoirs along its path.
A long history of water appropriation, channel and flow manipulation, and invasive species introductions have taken their toll on the structure and function of these rivers, with important consequences for native fishes, such as the pallid sturgeon (Scaphirhynchus albus), as well as the food webs that support them. Population estimates show that only a few hundred adult pallids inhabit these river segments, and there is almost no evidence of natural recruitment.
In an effort to recover pallid sturgeon from inevitable local extinction, managers have implemented an ambitious stocking program. These stocked pallids appear to be doing well, but there are important uncertainties about how stocking will affect other species in the food web, and whether stocking should continue at its current rate.
We are just beginning a large project to quantitatively examine these river food webs, with the goal of estimating a realistic range of carrying capacities for pallid sturgeon. Our project will blend population and ecosystem approaches, and will be one of the first to 'dig into' to these large river food webs in Montana.
Collaborators