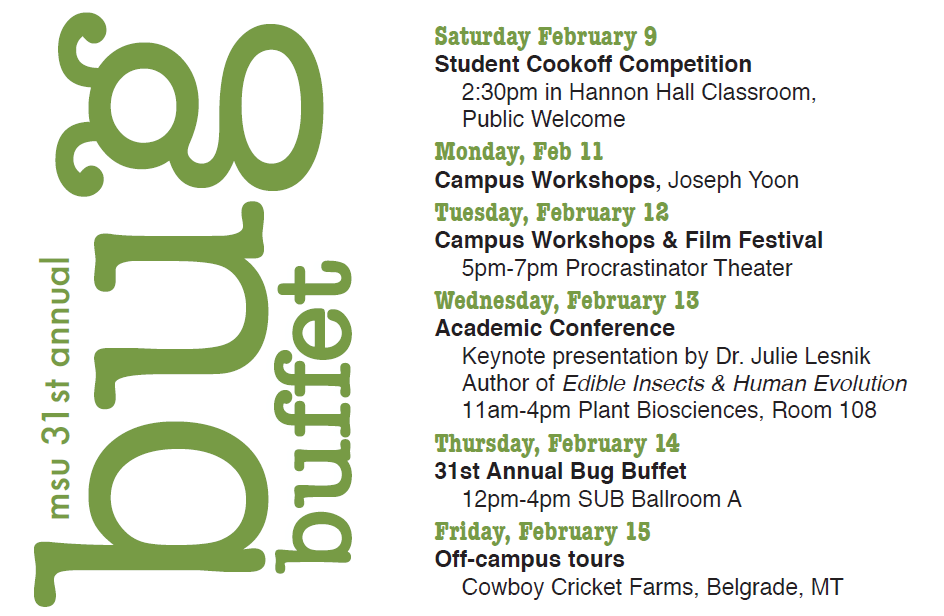 Saturday, February 9th– 2nd Annual Bug Cook-off. In partnership with our Hospitality Management program, Gallatin College's Culinary Arts program, and the Montana Public Broadcasting Service (PBS) we are very excited to announce our 2nd Annual Bug Cook-Off! We are currently recruiting competitors! Through the financial support of the Colleges of Agriculture; Education, Health and Human Development; Jake Jabs College of Business and Entrepreneurship; Letters and Science and the Office of International Programs and the Office of the President, we are flying in renowned guest chef Joseph Yoon. Health and Human Development Faculty member Marcy Gaston is taking leadership with this event.
Tuesday, February 12th- workshop by guest scientist, Dr. Julie Lesnik, who has just published a book called Edible Insects and Human Evolution. Also on the 20th , in the Procrastinator Theater from 5-7 p.m. we are hosting a Film Festival featuring – "Bugs on the Menu" http://www.cbc.ca/documentarychannel/docs/bugs-on-the-menu at the Procrastinator theater. The Director of Bugs on the Menu, Ian Toews, was a featured speaker at the 2016 Bug Buffet.
Wednesday, February 13th - plan to attend the second annual academic conference featuring our guest chef and scientist. "Field to Feast: Prehistoric and Historical Search for Edible Insects in Food Evolution", from 11:00-4:00 p.m. RSVPs are encouraged and may be made to Hannah Brousseau at hannah.brousseau@student.montana.edu. Room 108 in the Plant Biosciences Building. Downloadable version of the Field to Feast Poster
Downloadable version of the Field to Feast Schedule
Thursday February 14th – 31st Annual Bug Buffet held at the Strand Union Building from noon-4:00. Last year we had over 1000 guests and we are hoping for even more guests this year. All guests are welcome to enjoy free samples of edible insects prepared in a variety of delicious recipes under the creative efforts of Amber Wivholm (University Food Service), David George Gordon and the careful supervision of MSU's sanitarian Dustin Schreiner.
Friday February 15th– There will be educational field trips to Montana's only edible insect farm - Cowboy Cricket Farms https://cowboycrickets.com/ . A second field trip will be to the U.S. Department of Agriculture fish hatchery in Bozeman. For more information about the Cowboy Cricket Farms field trip contact Derek Kean at thecricketranch@gmail.com. for more information on the fish hatchery field trip contact Wendy_Sealy@fws.gov. To register for either field trip, contact Claire Zahner at czahner96@gmail.com .
All of these events are possible through the donations from across campus, corporate and local sponsors and the efforts of the MSU Committee on Insects for Food and Feed and Florence Dunkel's students. Members of the committee are a mix of faculty, students, MSU staff and corporate sponsors. Academic and institutions represented by faculty, students and staff include: Department of Cell Biology and Neuroscience, Department of Ecology, Department of Health and Human Development, Department of Plant Sciences and Plant Pathology, Jake Jabs College of Business and Entrepreneurship, Gallatin College – Culinary Arts Program, Office of International Programs, Residence Life/University Food Service, The Bug Chef and University Food Service. The members (in alphabetical order) include: Florence Dunkel, Marcy Gaston, David George Gordon, Timothy (Teo) Gould, Holly Hunts, Wan-Yuan Kuo, Christine Lux, James Rolin, Kathy Rolin, Dustin Schreiner, Steve Stowers, Michael Thienes, Kaitlin Webb, Amber Wivholm, and Claire Zahner.
Mission
The USDA National Institute of Food and Agriculture has proposed that the environmental footprint of agriculture (water and land use, ammonia production, greenhouse gas emissions, fossil fuel use) be reduced 50% by 2030. Montana is one of the few states in the US that derives much of its income from agriculture ($2.4 billion annually). It is the mission of this committee to raise awareness on campus and within the State of Montana of the opportunities edible insects, insects as a food ingredient, and insects as feed ingredients provide in reducing the footprint of agriculture.
History
The first Montana State University (MSU) insect feast was held in February 1989 attended by only the students in a University Core course in Technology. The only item on the menu was a Montana grasshopper, Melanoplus sanguinipes, raised on grain and romaine lettuce in the USDA ARS Grasshopper Lab on the MSU campus. A frying pan, portable hotplate, and a pound of butter were the only other supplies and equipment used for the buffet. Within 50 minutes the heaping platter of grasshoppers were consumed. Less than 20% of the 25 attendees were pleased and convinced this was a new food of the future for Euro-Americans.
This annual banquet, always in February, grew to become well-known across campus and within Gallatin Valley. Over the years our guests have included feature writers from the New Yorker, Field and Stream, the Tokyo Times and the Chinese News Service (CCTV) as well as a Canadian documentary film crew who have just released their film, Bugs on the Menu. Twenty-nine years later, the banquet hosts over 850 guests and a seven course menu. The 2017 exit survey indicated the acceptance rating is in the ninety percent range.
The Bug Buffet is now prepared by the MSU Food Service and is more than a campus event. Guests come from local pre-schools, grade schools, middle schools both public and private, and Bozeman High School. It is no longer just a buffet. The event is a week-long series of workshops held in the Colleges of Agriculture, Business, Education Health and Human Development, and in the School of Film and Photography. The entire event is organized by the Bug Buffet Committee in collaboration with a University Core course in Contemporary Issues in Science with an annual budget of from $6,500 in contributions from academic units on campus and corporate sponsors nationally and internationally.
The first edible insect farm in Montana, Cowboy Cricket Farms, L.L.C., Belgrade, MT, was a direct result of the 2016 Bug Buffet workshops in Nutritional Sciences at MSU. Cowboy Crickets recently built their own commercial kitchen in Belgrade, MT, and one of their several products, a post workout recovery cookie is available in shops in Bozeman and on the Web.