---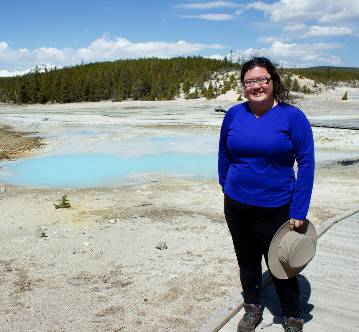 Research Advances and Awards
Doctoral Student, Melody Lindsay of the Boyd Lab, receives NASA Fellowship
Melody Lindsay, a third year graduate student in the Boyd Lab, has been awarded a NASA Earth and Space Science Graduate Student Fellowship in Planetary Science Research for 2016-2017 (with the option to renew for 2 additional years) to study the ecology and evolution of hydrogen metabolism in thermophiles. Her work focuses on linking the role of hydrogen (H2) in the fixation of carbon dioxide (CO2), to identify the populations and metabolic pathways involved using integrated molecular and physiological approaches, and to understand how these populations and their activities allow for the establishment of more complex microbial communities in geothermal springs in Yellowstone National Park (YNP). By focusing on early evolving metabolisms that capitalize on the H2-CO2 redox couple in deeply branching autotrophic and thermophilic lineages in an early analog environment (YNP hot springs), this project will provide new insight into key processes that likely supported life on early Earth.
Click here to read the full article about Melody and all of her achievements!
---
Focus on Undergraduate Achievement: Josh Carter
The Department of Microbiology and Immunology would like to recognize the achievements of Josh Carter. Josh has received the prestigious Goldwater Scholarship, the nation's premier scholarship for undergraduates studying math, natural sciences and engineering.
Josh is double majoring in mechanical engineering and microbiology and also plans to add a minor in biochemistry. Josh has worked for the past three years in the Wiedenheft Laboratory. There, Josh has been working with a team to understand the mechanisms bacteria use to defend themselves from infection by viruses. His research, which has focused on determining the structure and function of a 405kDa RNA-guided surveillance complex, called Cascade (CRISPR-associated complex for antiviral defense), has resulted in four papers. His publications include a co-first authorship, and another paper on which he was the sole first author.
Josh's numerous awards are well deserved recognition for his hard work and outstanding research. Congratulations on your Goldwater Scholarship Josh!
---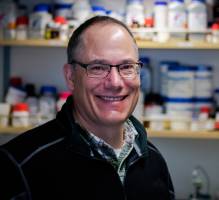 Please Welcome New Faculty Member: Dr. Doug Kominsky
We are very pleased to introduce Dr. Doug Kominsky, the newest member of our growing faculty! Dr. Kominksy comes to us from the University of Colorado Denver where he has worked for the past several years as an Assistant Research Professor.
Research Interests: "Our lab focuses on understanding the underpinnings of chronic inflammation. Specifically, we study inflammatory bowel disease (IBD), which are devastating diseases impacting people of all ages. Our work seeks to elucidate alteration of metabolic pathways and how these changes influence tissue homeostasis as well as ongoing inflammation."
Education: Dr. Kominsky received his PhD in Molecular Biology at the University of Wyoming. His undergraduate degree was also obtained at the University of Wyoming in Zoology and Physiology.
Favorite Ice Cream: Cookie dough