MSU Retiree Association Mission Statement
The MSU Retiree Association (MSURA) informs, connects and advocates for all retirees. All university retirees are included in MSURA when they retire from MSU. MSURA is a non-dues paying organization serving all retired faculty, professional and classified staff and their spouses. All retirees and pre-retirees are welcome and encouraged to participate.
MSURA encourages continued engagement with the University and colleagues by providing opportunities for retirees to gather together through diverse social, cultural, educational and intellectual programs. MSURA also seeks to provide pertinent information for retirees on privileges, finances, benefits, health insurance and pre-retirement planning.
Yes! I want to stay engaged and informed through the MSU Retiree Association
To join the MSU Retiree Association, complete this form Download PDF SIgn Up Form with your contact information (name, mailing address, email, telephone number, department/program with type of contract you held) by mail or email to Dawn Silva at 1501 So. 11th, Bozeman, MT 59715 or dawn.silva@msuaf.org.
Upcoming Events 2019
Register for all events on the MSU Alumni Foundation Calendar of Events website. All events are at the MSU Alumni Foundation Building Great Room, 2nd floor, 1501 So. 11th Avenue, Bozeman, unless noted elsewhere.
September 18, 2019 12:00-1:30 - Dr. Bruce Maxwell, MSU Professor Land Resources & Environmental Sciences and Co-Directr Weed & Invasive Plant Ecology & Management Group - "Weeds and Climate Crisis"
October 9, 2019, 2019 12:00-1:30 - Dr. Karl Birkeland, MSU Adjunct Assistant Professor Geography and Avalance Scientist with the US Forest Service and National Avalanche Center - "Avalanche Center and MSU's Snow Science Program Past and Present"
(Go to Past Programs page for previous year's program descriptions)
Governance
The MSURA is operated by a volunteer Advisory Council and decisions are made by consensus. The Advisory Council consists of retiree volunteers who meet monthly. There are 4 committees: Program, Communications, Finance, Health Benefits and any retiree can serve on a committee and/or Advisory Council. The Advisory Council welcomes the participation of retired faculty, professional and classified staff. Organization administrative support is provided by the MSU Alumni Foundation, whose staff also facilitates MSURA's outreach activities. Budget support comes from the MSU Provost, the MSU Alumni Foundation and the Retiree Fund held at the Alumni Foundation.
Advisory Council Members
Joann Amend, Retired Classified Faculty Council
Ken Bowers, Retired Emeritus Faculty Dept of Mathematical Sciences
Jerry Coffey, Retired Emeritus Faculty Dept of English
Kathy Hansen Crawford, Retired Emeritus Faculty Dept of Earth Sciences
Jack Jelinski, Retired Emeritus Faculty Spanish Dept of Modern Languages
Bob Lashaway, Retired Professional University Services
Hashem Nehrir, Retired Emeritus Faculty, Electrical & Computer Engineering
Kim Rehm, Retired Professional Extended University, ADVANCE
Pat Simmons, Retired Professional Information Technology Center
Linda Wyckoff, Retired Professional Museum of the Rockies, College of Engineering, MSU Libraries
MSU Human Resources Liaison-Jeannette GreyGilbert, Chief Human Resources Officer
MSU Alumni Foundation Liaison-Kerry Hanson and Dawn Silva
MSU Provost Office Liaison-Julie Heard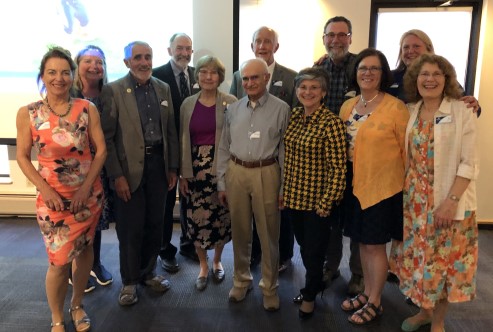 Advisory Council members with President Cruzado at Annual Dinner May, 2019
Left to Right: Kathy, Dawn, Jerry, Ken, Joann, Hashem, Jack, Waded, Bob, Linda, Kerry, Pat
MSU Retiree Association Donations
To assist in the basic expenses of our events, the Association is now seeking donations to continue to provide quality information and programming to retirees. To donate go to MSU Alumni Foundation's donate page for the MSU Retiree Association.
For more information on the organization, please contact Dawn Silva, our administrative support person at dawn.silva@msuaf.org