MSU Retiree Association Mission Statement
The MSU Retiree Association (MSURA) informs, connects and advocates for all retirees. All university retirees are included in MSURA when they retire from MSU. MSURA is a non-dues paying organization serving all retired faculty, professional and classified staff and their spouses. All retirees and pre-retirees are welcome and encouraged to participate.
MSURA encourages continued engagement with the University and colleagues by providing opportunities for retirees to gather together through diverse social, cultural, educational and intellectual programs. MSURA also seeks to provide pertinent information for retirees on privileges, finances, benefits, health insurance and pre-retirement planning.
Yes! I want to stay engaged and informed through the MSU Retiree Association
To join the MSU Retiree Association, complete this form Download PDF SIgn Up Form with your contact information (name, mailing address, email, telephone number, department/program with type of contract you held) by mail or email to Dawn Silva at 1501 So. 11th, Bozeman, MT 59715 or dawn.silva@msuaf.org.
Upcoming Events 2019 & Announcements
Montana Science Olympiad - MSU retirees….we need you on Nov. 26!
On Tuesday, Nov. 26, Montana State University hosts the statewide Science Olympiad tournament. The event attracts 1,400 middle and high school students from all over Montana. Yes, you read that right: ONE THOUSAND, FOUR HUNDRED potential future Bobcats right here on our campus! We need 200+ volunteers to help welcome students and their coaches, sign teams in, help judge contests and score tests, and all kinds of other jobs that help the event run smoothly.
Shifts are available between 7:30am and 5pm; we are most appreciative of volunteers who can stay through the competition section of the day (7:30 to 12:30) but anything helps!
Volunteers get a t-shirt plus snacks or lunch, depending on the time of your shift. NO SCIENCE BACKGROUND IS NECESSARY, although if you are familiar with Science Olympiad and have a certain event you'd like to help with, let us know on the form.
We also need help on the days prior to Science Olympiad, sorting t-shirts, packing bags, etc.
Thank you in advance! Please feel free to reach out to me directly if you have any questions, and if you'd like to know more about Science Olympiad in general, here is a nice news article.
Volunteer for the 2019 Science Olympiad! http://bit.ly/mtsovolunteer2019
Suzi Taylor, MSU Science Math Resource Center / Montana Science Olympiad state director
taylor@montana.edu 994-2336
Advisory Council Members win awards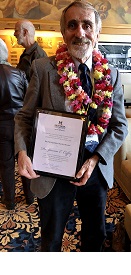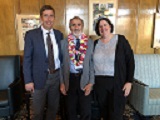 Jerry Coffey Distinguished Faculty Award College Letters-Sciences & with son, daughter 2019
Pat Simmons 5th from left Retiree of the Year with Alumni Engagement Award winners 2019
MSU Parking for Retirees
The parking system on campus will be changing on September 1, 2019, but be assured that the lifetime free parking privilege will continue as before. The system will change however: hangtags will no longer be used and will be replaced by a car license recognition system. Here is what you need to know and do:
-You must let Parking Services know of your license plate number(s). Up to two cars can be registered per retiree but only one of those cars can be parked on campus at any given time. Call 994-1723 or visit Parking Services in the Huffman Building (7th and Kagy) to register your vehicles. Try to do this by 9/1/19. However, old deadlines will still be honored for the time being. Your new permit will be valid until September 2023.
-You may park in any of the Bobcat lots (a map is attached). The Bobcat lots are roughly equivalent to the old SB lots. You may no longer park "down" however in the old E and F lots. The permit is valid only for the Bobcat Lots.
For more information call 994-1723 or go to the Parking Services website at www.montana.edu/parking.
Upcoming Events
Register for all events on the MSU Alumni Foundation Calendar of Events website. All events are at the MSU Alumni Foundation Building Great Room, 2nd floor, 1501 So. 11th Avenue, Bozeman, unless noted elsewhere.
November 5, 2019, 12:00-1:30 - Dr. Bridget Kevane, Professor & LaTrelle Scherffius, Instructor in Department of Modern Languages & Literature "Finding the Truth About the Southern Border" (includes socializing after presentation)
December 5, 2019 - 4:00-6-00 - Holiday Social in the Great Room
January TBD
February 12, 2019, 12:00-1:30 - Dr. Kristin Intemann, Professor in Department of History & Philosophy "Calling the B.S.: from fake news to vaccines; how do we know what to believe" (includes socializing after presentation)
March 10, 2019, 12:00-1:30 - Dr. Walter Fleming, Professor in Department of Native American Studies "Pow Wow 101 - the real maning of what the drum groups are chanting and drumming" (includes socializing after presentation)
April TBD - Benefits
May TBD - Dr. Bill Wyckoff, Professor in Department of Earth Sciences "Riding Shotgun with Norman Wallace; Rephotographing the Arizona Landscape"
(Go to Past Programs page for previous year's program descriptions)
Governance
The MSURA is operated by a volunteer Advisory Council and decisions are made by consensus. The Advisory Council consists of retiree volunteers who meet monthly. There are 4 committees: Program, Communications, Finance, Health Benefits and any retiree can serve on a committee and/or Advisory Council. The Advisory Council welcomes the participation of retired faculty, professional and classified staff. Organization administrative support is provided by the MSU Alumni Foundation, whose staff also facilitates MSURA's outreach activities. Budget support comes from the MSU Provost, the MSU Alumni Foundation and the Retiree Fund held at the Alumni Foundation.
Advisory Council Members
Joann Amend, Retired Classified Faculty Council
Ken Bowers, Retired Emeritus Faculty Dept of Mathematical Sciences
Jerry Coffey, Retired Emeritus Faculty Dept of English
Kathy Hansen Crawford, Retired Emeritus Faculty Dept of Earth Sciences
Jack Jelinski, Retired Emeritus Faculty Spanish Dept of Modern Languages; Faculty Council Rep
Bob Lashaway, Retired Professional University Services; Alumni Engagement Advisory Board Rep
Hashem Nehrir, Retired Emeritus Faculty, Electrical & Computer Engineering
Kim Rehm, Retired Professional Extended University, ADVANCE
Pat Simmons, Retired Professional Information Technology Center
Linda Wyckoff, Retired Professional Museum of the Rockies, College of Engineering, MSU Libraries
MSU Human Resources Liaison-Jeannette GreyGilbert, Chief Human Resources Officer
MSU Alumni Foundation Liaison-Kerry Hanson, VP Alumni & Engagement and Dawn Silva, Director Annual Fund
MSU Provost Office Liaison-Julie Heard, Assistant to the Provost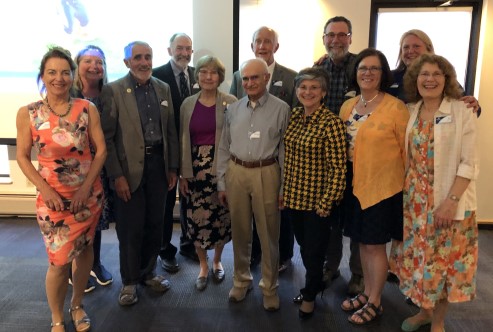 Advisory Council members with President Cruzado at Annual Dinner May, 2019
Left to Right: Kathy, Dawn, Jerry, Ken, Joann, Hashem, Jack, Waded, Bob, Linda, Kerry, Pat
MSU Retiree Association Donations
To assist in the basic expenses of our events, the Association is now seeking donations to continue to provide quality information and programming to retirees. To donate go to MSU Alumni Foundation's donate page for the MSU Retiree Association.
For more information on the organization, please contact Dawn Silva, our administrative support person at dawn.silva@msuaf.org