From President Cruzado:

Montana State University is nationally recognized as a leading land-grant university. As I have travelled across Montana and around the world, I am consistently amazed and impressed at the excellence of our students, faculty, staff and alumni who so elegantly deliver our land-grant mission of learning, discovery and engagement. To tell the MSU story in the most compelling way, it is essential to use consistent communications both visually and in terms of messages. When we speak with one voice, our message is amplified and more powerful.

The MSU brand guide is designed to give you all the information you need to create consistent communications. I encourage you to use this guide to reinforce your knowledge of MSU's brand strengths and key messages and follow these guidelines in your communications. Your voices are essential to deliver a consistent presentation of the university-whether through personal interactions with students, collaborations with your colleagues, or presentations to external audiences.

MSU has a great story to tell. When we tell the story with one voice, it becomes even more powerful. Thank you for your commitment to MSU.

Waded Cruzado
President
The MSU brand
Brand Promise: The Montana State University brand consists of our people, place, interactions and experience. Montana State University promises to be a leader in the integration of learning, discovery and engagement. The MSU brand is defined by the experience delivered to our students, the successes achieved by our alumni, and the innovative partnerships developed in communities we serve.
Reputation: At Montana State University, we are proud of our reputation for excellence in the integration of learning, discovery and engagement. Our university is consistently recognized as one of the top public research universities in the nation. According to the Carnegie Foundation for Advancement of Teaching, MSU is the only college-out of more than 4,600 in the country-that educates primarily undergraduate students, maintains "very high research activity" (the highest category), and is recognized for its significant commitment to community engagement. This combination means that our students participate in meaningful research and creative projects that not only enhance education, but improve lives in local and global communities.
MSU's increased visibility and enhanced reputation is demonstrated by the growth and profile of our student body, the increased involvement of our alumni and donors, and the enhanced town gown relationship.
Why is it important?
One of our greatest assets is our Montana State University brand. Consistent use of university key messages and visual design allow us to promote and increase our brand recognition. Using these guidelines across all media will reinforce Montana State University's identity as a leader in the integration of learning, discovery and engagement and help us achieve our goals.
The MSU brand is what differentiates us. It's what sets us apart, so it is important that we be mindful of how our brand is presented. It is our responsibility to promote and protect the excellence that defines Montana State University. Consistent presentation will leave an indelible mark in the minds of our audience and help the university achieve the goals set forth in the strategic plan.
Who does this guide apply to?
This brand guide applies to all university divisions that communicate to our key stakeholders. All Montana State University academic, research, outreach, student services, administrative and affiliated units, must follow these guidelines. All university units help tell the MSU story, so it is important that all communications present a consistent and unified message. Outside organizations and sub-contractors, including student employees who are creating materials for any Montana State University division must adhere to these guidelines as well.
These guidelines apply to all external and internal communications, including, brochures, websites, advertising, invitations, direct mail, postcards, fliers, catalogs, posters, billboards, banners and other environmental graphics, video, DVD, CD, film, presentations and stationery.
These guidelines are supported by the following MSU policies:
The MSU Brand
MSU Strategic Plan - Choosing Promise - Adopted 2019
MSU's strategic plan,"Choosing Promise," articulates the university's strategic direction and will serve as its roadmap through 2024. It states the university's mission, vision and values. It also lists areas of intentional focus and goals, as well as metrics that will be used to measure progress toward those goals and the specific actions needed to help reach them.
Mission/Vision/Values
Mission
As the state's land-grant university, Montana State integrates education, creation of knowledge and art and service to communities.
Vision
Montana State University will transform lives and communities in the people's interest.
Values
Excellence
We pursue exceptional outcomes.
Integrity
We commit to honesty, ethical behavior and accountability.
Inclusion
We create a civil, supportive and respectful environment where difference and diversity are sources of strength.
Collaboration
We believe that working together produces better outcomes.
Curiosity
We expect inquiry, exploration, creativity and innovation.
Stewardship
We care for and conserve the human, economic, physical and environmental resources entrusted to us.
Brand Personality
Vibrant, cooperative, friendly,

Ambitious, strong work ethic,

Creative problem solvers,

Leaders in service and engagement
The MSU Logo and Tagline
The MSU graphic identity program consists of logo and tagline information as well as branded fonts, color palettes and photography style. These visual identity guidelines apply to use of the MSU name, logo, and brand strengths in print, electronic, and video communications.
MSU colleges, departments, research centers and administrative units should not use logos other than the MSU logo.
The MSU name and logo is reserved for the exclusive use of the MSU community on university-related projects. Outside entities wishing to use the logo may apply for a license to create commercial products. Outside organizations wishing to use the MSU name and logo should describe the specified use and request permission from [email protected].
The MSU Logo
The Montana State University logo is the primary representation of MSU and should appear on all communications. Departments promoting events and symposium should always ensure that the university name or logo is properly and prominently displayed.
Logo Symbolism:
Block M - The Block M is a tribute to the M on Mount Baldy that was built by students in 1916. According to the 1917 yearbook, the M stands as, "a symbol of our loyalty to Montana State and a reminder of what a united class can accomplish."
Arc - The M is supported by an arc that represents the reach across the state and communities that we serve.
Flame - Housed within the heart of the M is the flame of knowledge, the lamp of learning, the academic fire that is nourished through the integration of learning, discovery and engagement.
The MSU Tagline: Mountains and Minds
MSU's official tagline is "Mountains and Minds." The tagline was first implemented in 1983 to promote MSU summer session. It's roots are in the poem by Gerard Manley Hopkins: "O the mind, mind has mountains; cliffs of fall / Frightful, sheer, no-man-fathomed."
The tagline is highly regarded and recognized by our stakeholders across Montana and beyond. The tagline is recommended for use/inclusion across all communications.


Brand Extensions:
Academic colleges and agencies have been assigned a graphic that integrates their name with the core signature.
All academic departments and research units that are directly affiliated with an academic college or one of the agencies should use that organization's brand extension.



Unit Identifier: If university administrative units that serve the entire university need to showcase their name in a small space, a unit identifier graphic can be provided. Unit identifiers are not designed to be used on MSU letterhead, business cards or websites. Please contact [email protected] for a unit identifier graphic.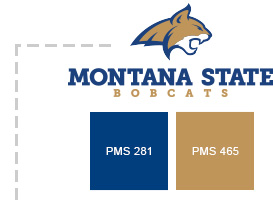 MSU Athletic Marks
Montana State Bobcat athletics utilize several spirit marks to promote and enhance the visibility and build positive associations with Bobcat athletics. The family of athletic marks is reserved for the exclusive use of Bobcat athletics. These marks cannot be used by academic or administrative departments in their official communications.
Exclusive Athletic Marks
Use of the athletic and spirit marks by entities outside of the university is strictly forbidden. Vendors wishing to develop merchandise bearing the MSU or Bobcat name or logo must apply for a license through Collegiate Licensing Company. Businesses wishing to promote their service or product by aligning with the MSU Bobcats must negotiate an agreement with Bobcat Sports Properties.
For student use of the Bobcat logo, please see student use section.
For more information on Bobcat Merchandise: Bobcat Spirit
Vendors wishing to produce products bearing the Bobcat name or logo: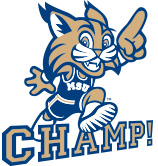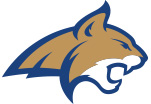 Print Guidelines
All communications, whether printed or electronic, must include the proper MSU branding. The MSU core logo or the college brand extension logo is required on all communications.
Sample Publications
Creative Services is available to help create on brand publications like the following samples. Click on image to enlarge.
Typography
Color Palette
The following type fonts are recommended for all printed materials. These fonts were chosen to complement the MSU logo and wordmark font. There are two classic fonts, one serif and one sans serif that can be used for both headlines and body text. A third font is a display font to be used for headlines only.


Sans-serif - communicates a clean, modern impression; available in a wide range of weights.
The main font use for the MSU business suite (letterhead, envelopes, business cards) publications and promotional materials. Arial narrow is used as a substitute in the electronic template version of the letterhead. Recommended for headlines and body text.






Serif - communicates a sophisticated, classical impression.
Recommended primarily for body text, especially in correspondence and copy.






Slab serif display font - communicates a strong impression with a collegiate look with echoes of MSU's wordmark font; use Bold and Heavy weights. Recommended for headlines only.


We recommend Open Type Fonts (OTF) because they are cross platform, meaning they can be used interchangeably by Macintosh and PC systems. Licenses for these fonts can be purchased at these sites:
You do not need to buy the entire font families, especially in the case of Caecilia-Bold and Heavy are the only weights you would need. ITC Franklin Gothic Standard has many weights and variations to choose from. Choose the ones you expect to use most often. Adobe Garamond offers the standard selection of Regular, Italic, Semibold, Semibold Italic and Bold. All of these are useful in creating publications.


MSU's primary color fonts are blue and gold, and we recommend using them in publications and promotional materials, particularly those that are targeted to MSU core audiences. Audiences, especially in the state of Montana, instantly recognize blue and gold as representing MSU.
Extended Color Palette







The extended palette consists of additional recommended colors that complement the university's blue and gold, while providing for a sophisticated color scheme. These colors are meant to be used in four-color process publications and follow the CMYK (Cyan, Magenta, Yellow, Black) naming convention.
Web Guidelines and Resources
The web is one of our most powerful communication tools. The university website, individual division websites and social media should speak with the same voice and present a cohesive look and feel across all channels.
MSU uses a Content Management System (CMS) called modern campus to deliver the university's websites. Most MSU websites should be in the CMS. MSU's web standards (logo, layout, typography, color palette) are designed into it. The CMS enables all university schools, divisions and departments to easily create and update their sites and remain consistent with the MSU brand, while still allowing enough flexibility to express their unique identities.
There are some sites that may be built outside of the CMS, and the review and approval of those website designs by MSU Web and Digital Communications must happen before they are published publicly. MSU Web and Digital Communications should be contacted early in the web development process to ensure design plans meet brand standards.
All graphical development for Web pages must be in accordance with the established Graphic Identity and Branding Guidelines, as well as the brand information found on this toolkit. The Web guidelines are an inherent part of the print guidelines, as all communications should be consistent across all mediums.
For more information about the CMS: Visit Web and Digital Communications
For more information on styling your pages within the CMS see the MSU Content Management System Help Docs.
Web Color Palette:
Video Guidelines
Video has become an effective media to showcase the excellence of Montana State University and help the university and its departments achieve their goals. Just like other mediums, it is important to properly represent and include MSU branding. Several tools are available to brand MSU video pieces.
Bumper
An opening bumper includes the MSU logo and should be placed at the head of any video project to brand it as an MSU production. The closing bumper identifies that the production is the intellectual property of MSU and should appear at the end of the production.
Lower Third
Lower Thirds: To identify subjects in video productions, use a lower third bar in the MSU branded video style.
When adding subtitles to the video, use Arial or Helvetica font
When showing a name and title use:
First Name Last Name: Jane Doe
Department Name: MSU College of Business
The graphic is an editable file so text can be updated. However, the selected font (Arial or Helvetica) should be used, as this is part of the MSU branding. Once finished, the graphic should be saved as a TIFF file with 'layers' and 'alpha channels' selected. This file should be compatible with most video editing applications. The graphic can be placed at the bottom of the image-safe area of the screen using keyframes or your editor's particular option for moving graphic layers.
Bug
The bug identifies the production as an MSU production. This graphic is placed in the lower-right corner of the image-safe area of the video and should remain on the screen for the production between the opening and closing bumpers. The bug is intended for video purposes only and is not appropriate for other print or online uses.
Film and photography on campus: Outside vendors producing films on campus for commercial purposes must comply with the film and photography policy and complete the facility use permit.

Campus departments and units filming their own video or contracting outside sources to film should:
Advise building supervisors.
Procure model releases for individuals featured in the piece.
Receive authorization from a parent or guardian in order for minors to appear in an MSU video.
All videos produced using MSU resources must have MSU branding applied.
MSUTube is the central source for all MSU videos. Individuals wishing to have their videos included in the MSUTube feed must adhere to the above branding guidelines. University Communications has final sign-off on all video projects. Requests to post videos to MSUTube should be directed to: [email protected].
Photography
The following guidelines apply to all communications such as brochures, posters, direct mail and websites.
The MSU photography style mirrors our brand personality-natural, authentic and focused on people. Photos should be high quality and highlight students and professors engaged in their dynamic learning and living environment. Imagery featuring students and mentors actively involved in research, creative projects and community involvement are preferred to snapshots of individuals or groups in static poses.
MSU photography is:
Personal-focused on the individual in their environment
Active-highlights students and professors actively involved in learning, discovery and engagement.
Simple, balanced, natural
Showcases ambitious, friendly people
Vibrant and captures diversity
Visual Media gathers imagery to illustrate news releases and key university events. Contract photography for specific print, web, or video projects is available. Any university entity using photography for marketing purposes should ensure that recognizable subjects have signed a model release form.
For more information on MSU Photography, contact Visual Media.
Communication Tools
All communications, whether printed or electronic, must include the proper MSU branding. The MSU core logo or the college brand extension logo is required on all communications.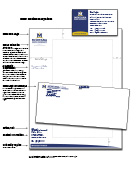 Business Suite
Montana State University has created an official business suite to ensure consistent communications on our letterhead, envelopes and business cards. All orders for the MSU business suite are completed online: EZTemplating.
Electronic Letterhead
Electronic letterhead is meant to create official MSU communications that are distributed electronically. The electronic letterhead is not meant to be used as a stand-alone communications vehicle. Place orders for electronic letterhead here: http://www.montana.edu/cpa/graphics/workaround/lh-ordering.html
Downloads
Powerpoint Templates
MSU Powerpoint Templates: Wide screen
MSU Powerpoint Templates: 4:3

Stick-on Nametags
- Word Document, for use with Avery labels #5395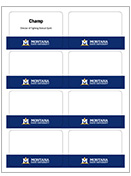 Tent Card Nameplate
- Word Document, for use with Avery product #5309
Electronic Communications
Email Signature file
When communicating via email, it is important to include a professional signature file:
Signature block should include name, title, Montana State University, campus address, phone number and website URL if applicable.
Use a web friendly, sans serif font in black.
Do not add other logos, background graphics or quotes.
For external communications an alternate electronic signature could include an MSU logo or MSU benchmark shown below.
Email Signature Example
Jonathan (Jonny) Doe
Title
Montana State University
Department/Office/Program
Bozeman, MT 59717
406-994-XXXX
montana.edu/webpage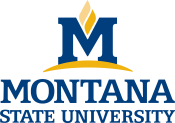 It is not necessary to repeat email address in signature file.
Optional Elements
Key message "benchmarks" are available to communicate the university's strengths to external and internal audiences. A selection of these messages are located here:
Montana State University is among just two percent of all colleges and universities in the U.S. with "very high research" activity according to the Carnegie Foundation for the Advancement of Teaching.
Montana State University, the state's land-grant institution, educates students, creates knowledge and art and serves communities by integrating learning, discovery and engagement.
MSU students and faculty are nationally and internationally recognized as thought leaders in their disciplines.
MSU offers a top rate education that has enabled many students to compete successfully for prestigious scholarship, grants and placement in top tier graduate programs. MSU students earned National Science Foundation, Boren and Fulbright Fellowships, and Marshall, Rhodes, Udall and Goldwater scholarships.