Food Allergies & Intolerances
MSU Culinary Services recognizes the top 9 food allergens as defined by: wheat, egg, milk, soy, sesame, peanuts, tree nuts, fish, and shellfish. We understand that eating away from home with dietary restrictions can be stressful and challenging. By providing safe and nourishing food, you can focus on your education, building relationships, and exploring the great outdoors.
Contact to our registered dietitian to learn more about avoiding cross-contact, personalized accommodations, or food safety.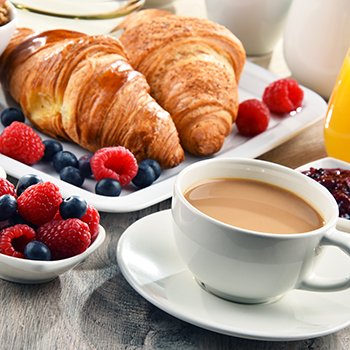 Dietary Preferences
We make every effort to provide an inclusive menu by accommodating special dietary needs and preferences. Culinary Services works diligently to incorporate dishes made with vegetarian, vegan, gluten-free, and local ingredients in all dining locations across campus.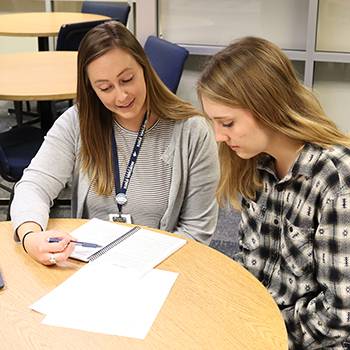 Individualized Support
We work to recognize and accommodate your dietary needs in a way that's personalized, sensitive, and supportive. Give us a call, send an email, or schedule a free consultation with our registered dietitian now.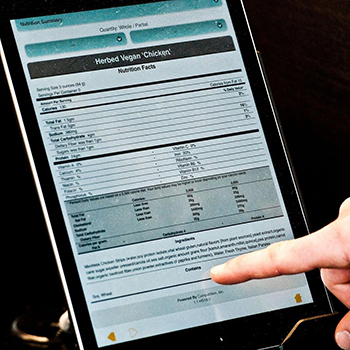 Navigating Campus Dining
All our food items are labeled on the meal service line. These "menu identifiers" include: the name of the food item, any of the 9 major allergens included in the dish served, and dietary designator. We designate our dishes as being made with vegetarian, vegan, gluten-free, or local ingredients.
Vegetarian: Dishes do not include meat, fish, gelatin, or rennet; they may contain dairy or egg.
Vegan: Dishes do not include meat, gelatin, rennet, dairy, eggs, honey, sugar processed with bone char, or any other animal by-products.
Gluten-Free Ingredients: Do not contain any known gluten, wheat, barley, or rye. However, due to the risk of cross-contact in our mixed-use and self-serve facility, products cannot be guaranteed to have less than 20 parts per million of gluten.
Local: Dishes include at least one primary ingredient sourced from Montana. Over 100 Montana vendors are featured throughout our operations as part of our Farm to Campus initiative.
Dining Guides:
At the entrance of each dining hall find a dining guide specific to your dietary needs. Follow the map display on the back of each guide to orient yourself in our dynamic space. Find helpful suggestions to consider whether you're eating with us for breakfast, lunch, a snack, or dinner.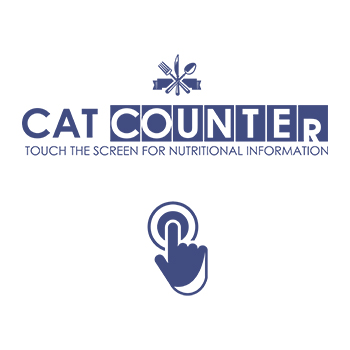 CatCounter
CatCounter displays daily menus for both dining halls, allowing students to build meals around certain nutrition goals and feel confident about what each menu item contains.
Nutrition facts, ingredient information, identified food allergens, and manufacturer disclaimers can be found on CatCounter. Please note that we only label allergens that are stated on the "contains" portion of the manufacturer's food label. If an ingredient list includes claims like "produced on the same line as", "may contain", or "produced in the same facility as", the allergen is not labeled but the information is available on CatCounter. Review according to your level of sensitivity.
We are transparent with our labelling because we believe in providing safe and healthy meals to our students. If you have questions during mealtimes, any of our chefs or management team members will be ready to assist you - just ask!
Tablets located throughout our service areas link to CatCounter for your convenience.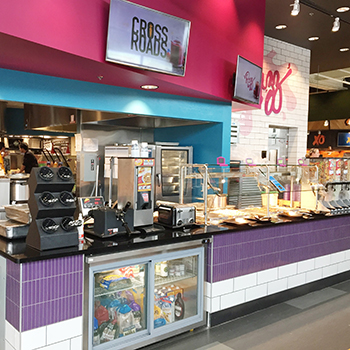 Special Diet Station: Crossroads
The Crossroads concept is located in both dining halls on campus. Here, we offer hot dishes - including a protein, starch, and vegetable - free of the top 9 allergens and gluten. Although allergen-free dishes are incorporated into all concepts, this station offers students peace of mind knowing that they can locate allergen-free food in the same location each day.
Crossroads is also stocked with a pastry case and refrigerator that contain gluten-free bread, muffins, bagels, and tortillas, a rotation of vegan and gluten-free desserts, dairy-free yogurt and condiments and individually packaged condiments to prevent cross-contact.
Guests with Celiac disease are encouraged to choose prepackaged options that are certified gluten-free by the manufacturer.
Dining Tours
The MSU Culinary Services registered dietitian provides assistance navigating the dining halls or retail food service operations on campus. The dietitian will introduce each station making recommendations to ensure you have a variety of options to support healthful dietary choices for any nutrition need. Tours empower students to get the information they need to make informed decisions about their menu options. Call or email to book a tour.
DISCLAIMER:
While Montana State University Culinary Services makes every attempt to accommodate students' individualized dietary needs, please be aware that all MSU Culinary Services' locations prepare items contacting egg, fish, milk, peanuts, shellfish, soy, tree nuts, and wheat. Every effort is made to safely prepare and serve foods but there is always a risk of cross contamination of allergens or gluten. In addition, there is always a possibility of cross-contact and suppliers and manufacturers may substitute or modify products at any time, without notifying us. Individuals with food-related dietary concerns should be aware of these risks. Questions about ingredients should be directed to a Culinary Services Manager. It is the responsibility of the individuals with food allergies or dietary concerns to make the final judgement about whether a food item is appropriate for them.