Planning Your Event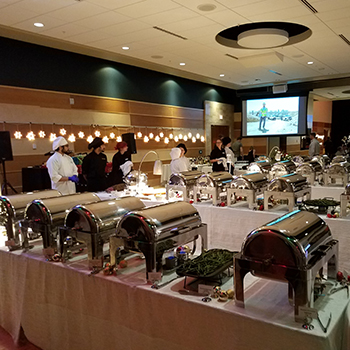 Step 1. Pick and reserve your location.
Contact Conference Services, Sports Facilities, or other Department Building Managers to reserve a space that fits with your unique needs and group size. MSU Catering does not cater off campus University related events.
Step 2. Review catering ordering guidelines and policies.
For small event/orders (under 100 guests) please place order 2 weeks in advance.

For large events (100+ guests) please contact catering a minimum of 4 weeks in advance.

Become inspired by looking at our Menu.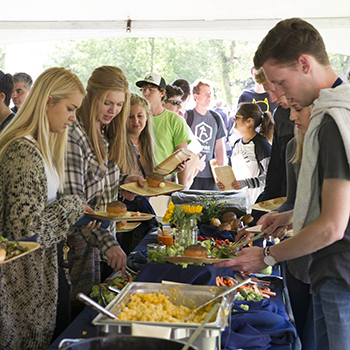 Step 3. Contact catering by phone or email to place your order.
Every event detail will be carefully managed by one of our catering sales managers. We love you to be involved however, if you'd like our professional event managers to handle the details, we are here to assist you with décor, centerpieces, chairs, tables, linens, and floral arrangements. If you are a do-it-yourselfer, that's great! Please coordinate with us so that we can make sure everything goes according to plan.

If you'd like to create a custom menu, or feel like your event needs unique attention contact us to schedule an in-person consultation with a catering manager.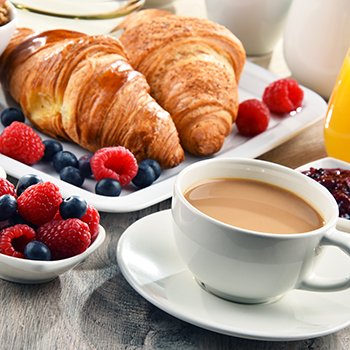 Step 4. Finalize your order.
For all logistics and details surrounding arrangements for your event, please see our Policies page or feel free to contact us directly. We looked forward to serving you the Bobcat Way!
Meet our Team
Genevieve Burmeister
Sales Director

LouAnn Rhoades
Sales Manager
Katiy Larson
Banquet Manager

Chipper Darcy
Executive Chef

Brad Fisher
Executive Sous Chef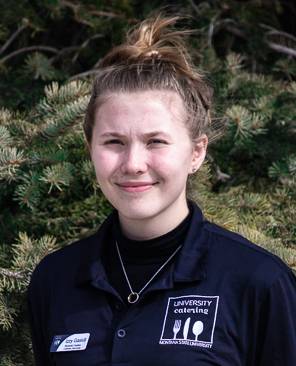 Izzy Gaskill
Banquet Captain
DISCLAIMER:
While Montana State University Culinary Services makes every attempt to accommodate students' individualized dietary needs, please be aware that all MSU Culinary Services' locations prepare items contacting egg, fish, milk, peanuts, shellfish, soy, tree nuts, and wheat. Every effort is made to safely prepare and serve foods but there is always a risk of cross contamination of allergens or gluten. In addition, there is always a possibility of cross-contact and suppliers and manufacturers may substitute or modify products at any time, without notifying us. Individuals with food-related dietary concerns should be aware of these risks. Questions about ingredients should be directed to a Culinary Services Manager. It is the responsibility of the individuals with food allergies or dietary concerns to make the final judgement about whether a food item is appropriate for them.