Student Employment - Detail & Benefits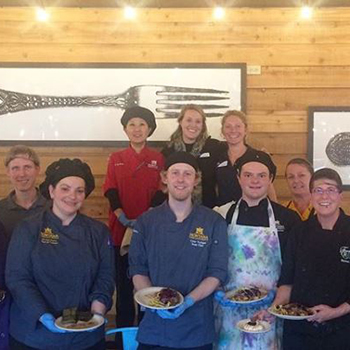 What to Expect
We offer flexible, 2+ hour shifts, scheduled around your classes.
Students may work 2 to20 hours per week,weekend and holiday shifts are also available.
Competitive pay - starting at $12.
No experience necessary - we train on the job!
All of our departments accept work study.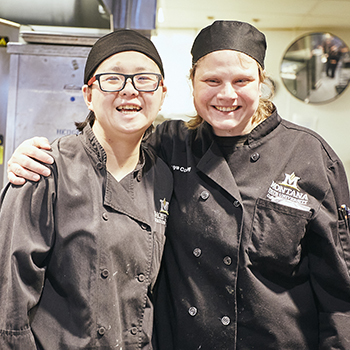 Incentives & Benefits
Reach 75 hours before Oct 9 - receive $150 bonus
$100 Refer-A-Friend bonus
Student management opportunities
Early dorm check in
Semester raises
Dining Halls
Food prep, cooking, cleaning, delivery and dishwashing positions.
Work 2 shifts every other weekend.
Free meal with every shift.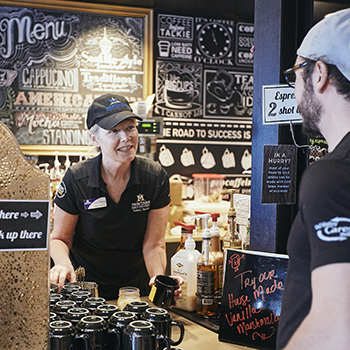 SUB Retail & Coffee Shops
SUB food courts, deli, and coffee shops across campus.
Barista, cashier, food prep, cooking, cleaning, and dishwashing positions.
50% off food discount at retail operations.
Free meal with shifts.
Catering
Food prep, serving, and dishwashing positions.
6 hrs/week minimum, guaranteed hours.
Free meal with shifts.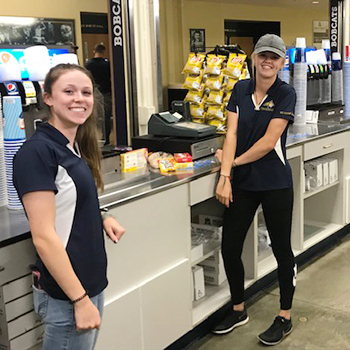 Concessions
Work all football games and major events.
Shifts are mostly on nights and weekends.
Prep shifts available during the day.
Free meal with every shift.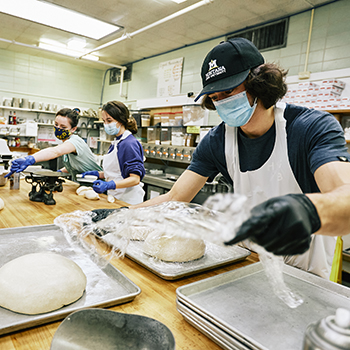 Indulge Bakery & Salad Department
Food prep, baking, cleaning, and dishwashing positions.
Free meal with every shift.
Testimonials

Felicity J
Union Market
"I've worked with MSU's Culinary Services for 3 years now and it is the most positive work environment I have ever been in. Not only is it a job that works perfectly with my school schedule, but the employees there are all incredibly encouraging and welcoming too!"
Erin W
SRO Coffee Shop
"I've worked for MSU's Culinary Services for 5 years now and the people I have met through it have become so influential to me and my time at Montana State. I honestly would not have had the memorable college experience I did if it were not for the fun and energetic people also working alongside me."

Haley B
Indulge Bakery
"Working at Indulge Bakery has brought me so many opportunities that have been so positive during college. I have been able to work within a schedule that I can also attend classes with no stress. The staff are people that are kind and people who will push me to learn in a welcoming environment. I always know when I go in for a shift I will be met met with excitement."

Hanna W
Indulge Bakery
"I have really enjoyed working at culinary services on campus because not only are the staff friendly but the hours fit in with your schedule. Most importantly, you are part of a team where no one is left behind; every individual matters. This job has brought many smiles and countless laughter."

Genaro R
Catering
"I like working for University Catering because the fast paced and friendly environment makes for a fun and dynamic work experience."

Madison S
Rendezvous Dining Pavilion
"I enjoy working for culinary services at MSU because it is a great work environment with friendly staff and flexible scheduling! I have also gained many job skills throughout my work experience as a student manager."