All students need a writing placement to participate in academic advising and register for classes. MSU uses an online Qualtrics assessment to evaluate the writing skills of incoming students.
For details about Writing Placement at MSU, please watch this video.
Online Writing Placement Survey
If you have been placed in a Core writing course through ACT/SAT scores or an AP/IB classes and exams then you  do not need to participate in the Online Writing Placement Survey. This means that you sent your scores to MSU and they are logged into the system. If you don't have a placement, you need to take this survey. This is a brief survey  usually taken before summer orientation  that will help assess the best writing course for your success at MSU. When you complete all portions of the survey your score and writing level will be posted to DegreeWorks within 24 hours. This is a brief survey that determines whether you need to take WRIT 080, WRIT 101/001, or WRIT 101.
Scored Writing Placement at MSU
If you have a placement but would like to change that placement or feel you need a different placement, participate in this scored writing placement. This exam asks you to read a text and then write an essay based on the prompt. Once you submit your document, writing instructors will score your essay and determine a placement based on your writing sample. This exam allows students the opportunity earn an exemption from WRIT 101. It does not give a student credits. It is important to know that an exemption will require a high level of writing skill.
This scored writing will be open from April 22-April 29 (closing at 11:59 pm). To participate, click on the link below and sign into Microsoft Forms using your MSU ID and password. The exams will be scored on Monday, May 1 and scores reported shortly after.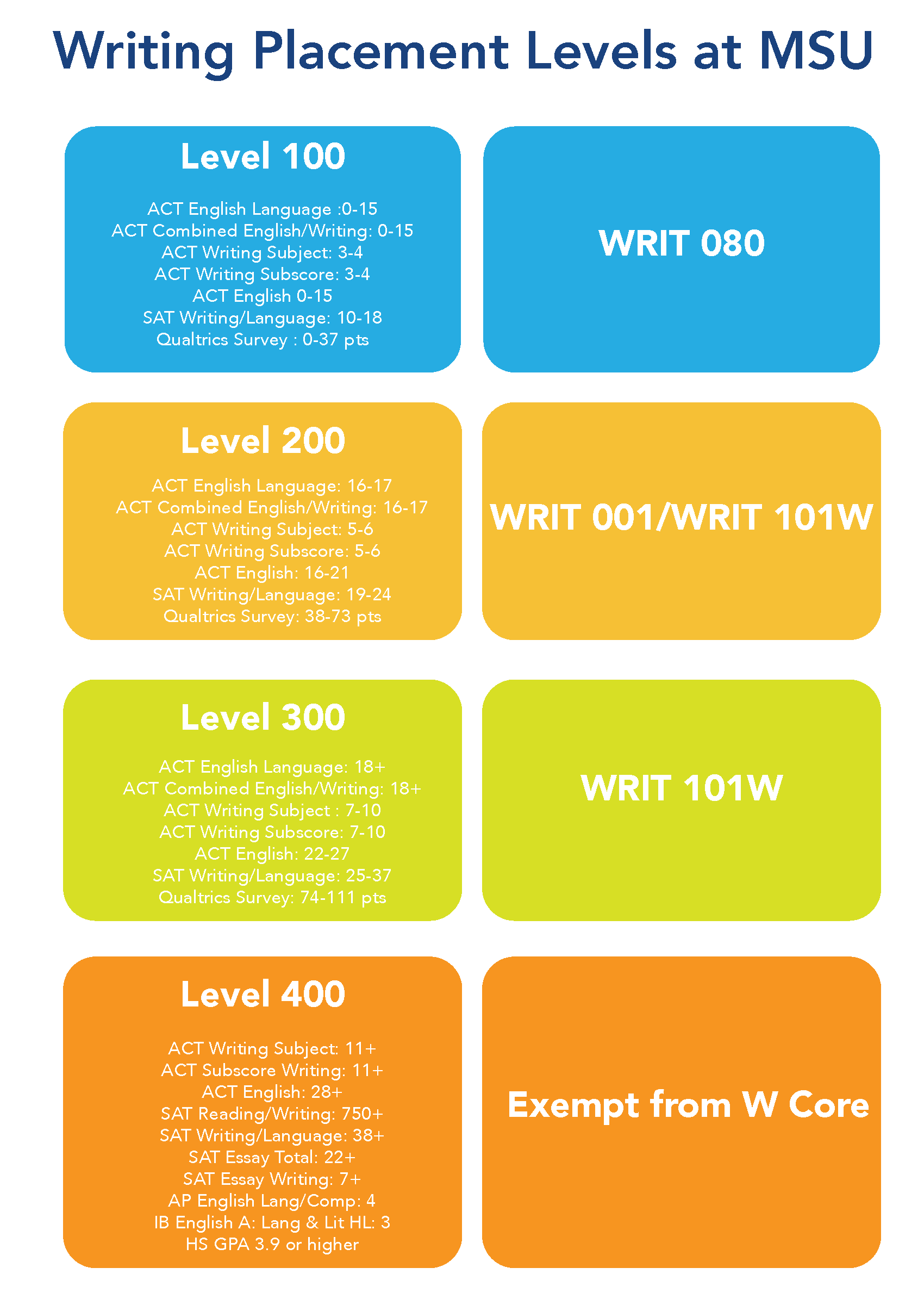 Course Descriptions
WRIT 080: Building Basic Writing Skills
4 Credits Gallatin College
Provides basic skills to prepare students for college level writing
Focuses on paragraph development and the basics of English grammar
Note: does not count toward credit for Core Writing Requirement
WRIT 001/WRIT 101: Co-Req Support for WRIT 101W + College Writing 1
5 Credits Gallatin College
4 days a week (3 credits large class, 2 credits in a small group)
Extensive practice on writing process and skills
Sign up for both WRIT 001 and corresponding WRIT 101 section
WRIT 101: College Writing 1
3 Credits MSU
3 credit course, either MWF or TTh sections
Practice writing a variety of genres, collaboratively and independently
Learn research strategies
Engage in public arguments