MEPI Student Leaders Program

Student Leaders Program Participants at the Closing Ceremony, 2017
The MEPI Student Leaders Program (SLP) is a part of the U.S. Department of State's public diplomacy initiative in the Middle East and North Africa. Funded and administered by the State Department, the Student Leaders Program at Montana State University is one of multiple programs that take place in the summer on campuses across the United States.
Each Institute offers an intensive six-week program for students from the Middle East and North Africa that focuses on the development of the participants' leadership skills and expands their understanding of American society and culture. It includes an academic program conducted by scholars and other professionals with expertise in leadership, cross-cultural communication, conflict resolution, human rights, and service learning.

The program includes a study tour through the Blackfeet Indian Reservation and Washington DC. Participants are also invited to attend an alumni conference in the Middle East or North Africa within one year of the conclusion of the program.
The most recent program was held online in the summer of 2021. 16 students from the MENA Region (Bahrain, Iraq, Lebanon, Israel, Jordan, Morocco, Libya, Tunisia, and Algeria) joined us on Zoom for leadership and civic engagement classes.
Student Leaders Alumni Engagement & Collaboration Initiative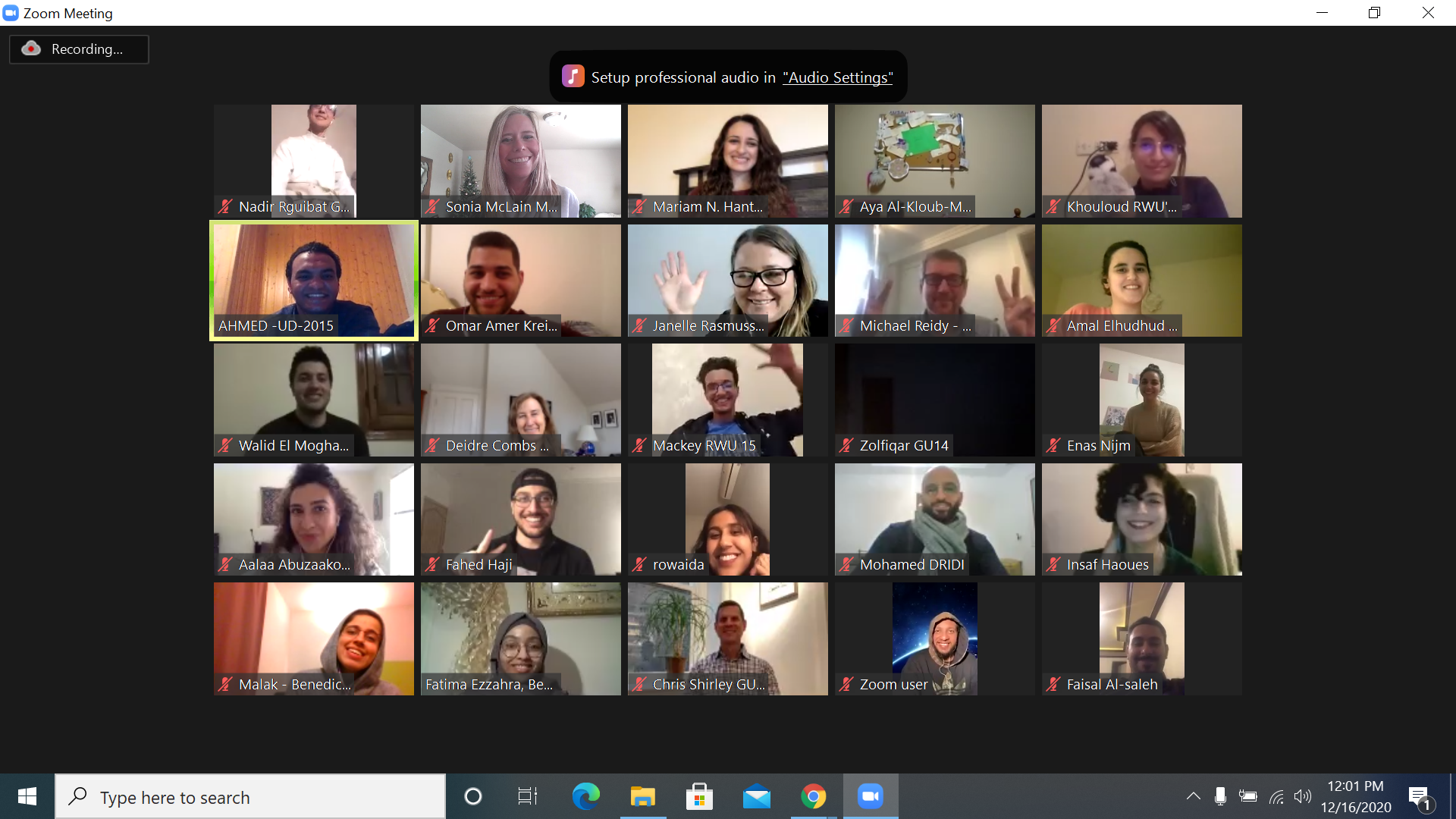 Sharing Student Leader Strengths
Across the MENA (Middle East, North Africa) Region, there are 1,447 alumni from 19 countries, spanning 15 years of MEPI Student Leaders Programs hosted by MSU and other universities in the US. The COVID pandemic presented an opportunity to connect MEPI Alumni through a virtual exchange program, which focuses on online collaboration and the development of transferable and relevant skills specific to the pandemic. The program offers a number of activities that allow MEPI SLP alumni to re-connect, network, and collaborate to expand existing projects, as well as develop concepts to launch new ones. MSU engaged a total of 361 alumni over the course of this online program.
Webinars: In the months of July and August, each host university led an educational webinar related to the Covid-19 pandemic. There were over 60 participants at MSU's webinar, titled "Re-thinking the Global Pandemic Equation: Analysis of the Relationship between Disease and Inequalities."
Pro Classes: Four MEPI Alumni were selected to present on an area of expertise to the broader MEPI SLP alumni community. Pro Class topics include: Living with Complexity, How to Become a Citizen Journalist, Project Management for Social Impact, and Leading in Times of Crisis.
Reunions: There were four online reunions specific to cohort years; MSU facilitated for 2014-2015 alumni. 68 alumni from 14 countries across the MENA region attended.
Working groups: SLP Alumni also had the opportunity to collaborate on projects and initiatives that address today's challenges, each related to different sectors, such as Youth Empowerment, Health, Women, Vulnerable Populations, and Education.
Algeria, Tunisia, Libya, Morocco, Israel, Lebanon, and Jordan.
PARTICIPANTS AND THEIR FAMILIES: In case of EMERGENCY, contact MSU's Student Leaders Program Administrative Director Janelle Rasmussen by phone 1.406.994.7602 or by email [email protected].