Dear Bobcat parent and family members,
Amid the omnipresent news of COVID-19, MSU students created some good news last week. First, students elected the new student leadership in ASMSU for 2020-2021. I am excited to work with Michael (Mike) Vasquez and Tal Rogers, our new ASMSU president and vice president, respectively, as well as the newly elected members to the student senate. Mike comes to MSU from Southern California and is a junior majoring in Business. Tal, an honors student from Bozeman, is studying industrial engineering. Both Mike and Tal are currently resident advisors (RAs) in Langford Hall, and they successfully ran their campaign on building community and increasing the sense of MSU as home. Congratulations to both Mike and Tal, and welcome to your new leadership roles!
The second piece of good news also stems from the ASMSU general election, in which students showed overwhelming support for the new Student Wellness Center project. In March 2019, a historic snow accumulation caused the roof collapse of the north and south gyms of the Marga Hosaeus Fitness Center and impacted the roof over the pool. Since then, we've heard significant feedback from students that they don't want to simply duplicate the 1971-era gyms that were lost last spring. Students asked for modern, improved spaces and facilities with features to match current and projected student priorities.
After gathering student input and consulting with national experts, the university proposed a center that integrates student health and recreation into one facility. The Student Wellness Center would provide numerous improvements to recreation and fitness but would also integrate a new home for student health services.
The proposed center would conveniently co-locate all student health, counseling, and wellness services in a one-stop facility that would also include recreational and fitness activities. Each student has their own path to health and well-being, and this facility will empower your student to attend to the different dimensions of their holistic health in a convenient, modern and inclusive space.
The newly proposed space is also designed to enhance the sense of community and connections among students -- both key components of wellness. Other universities where this integrated model has been adopted report better access to the whole range of health and well-being resources and, in doing so, improved student success. You can read more about the Student Wellness Center and the process going forward.
We are now in the final two weeks of classes with a week of final exams to follow. Faculty have been provided guidance and best practices for administering final exams through remote course delivery. Please check in with your student to offer encouragement as they buckle down during this critical time of the semester and put in the extra effort for a final push.
On the Homefront: I trust that you and your family are doing well and staying healthy. Our newest baby is now seven weeks old and growing like a weed - she's happy and healthy. I'm trying to balance keeping up with the daily WebEx meetings and ever-present email while also engaging from time to time with my family as I work from home. I've been celebrating the end of the workday with a daddy/daughter bike ride to the nearby creek with our 2.5-year-old, where we "cheers" each other and eat pretzels (my daughter with her apple juice box, me with something stronger). It's become our new routine. Like you and your family, we're doing our best to look for the silver linings, to help our neighbors where we can and to take on the challenges one day at a time.
Here's to your health,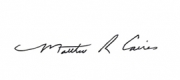 Matthew R. Caires
Dean of Students
P.S. Because of the generosity of donors, I was informed today that MSU has been able to provide nearly $115,000 to over 170 to students in emergency financial need because of circumstances related to COVID-19. You can learn more about the Bobcat Relief Fund on our website.