Dear Bobcat parent and family members,
While this winter has been relatively mild (at least by Montana standards), it is hard not to think of the upcoming warmer weather and longer days in Bozeman. And though I love winter and playing in the mountains on skis, I think summer in Montana is the primary reason we live here.
Is your student also thinking about staying in Bozeman for the summer and taking a few classes?
Summer Session at MSU is an excellent way for students to catch up or leap ahead in pursuing their degrees. It's also an opportunity to explore a new area of knowledge. MSU offers a variety of online and in-person summer classes, including six-week and 12-week courses.
Another Summer Session offering is the Bobcat 4x4, which has classes that meet four days a week for four weeks. The fast-paced format immerses students in course content and provides flexibility with sessions scheduled for May, June and July.
To see a list of courses available to your student during Summer Session, check out the online Schedule of Classes. In the course listings, the column on the far right, "Dates and Weeks," indicates the course's format. You can find more information about summer school registration on the Summer Session Course Registration webpage.
For Summer Session 2022, MSU is again offering the MSU Summer Edge program, which extends non-resident students a tuition discount of over $1,000 for a three-credit course. The discount is available for both graduate and undergraduate students.
If your student needs on-campus housing during Summer Session, they can visit University Student Housing's webpage to see the available accommodations. To be eligible to reside in the residence halls, a student must be enrolled and taking at least three credits. Room assignments for summer are made starting in early April and are based on the date of application on a first-come, first-served basis.
Speaking of housing, most students will find themselves moving off-campus at some point in their college careers. If your student is thinking about moving off-campus for the next school year, I'd strongly encourage them to line up a place sooner instead of later. The housing market in Bozeman is very tight, and it can take a while to find housing.
The Off-Campus Life website is designed to help your student make a successful transition into the Bozeman community. The website's resources include information about what to look for when choosing a place to live, what to know before signing a rental agreement, things to consider in deciding on roommates and more. Keep an eye on this website in the coming months as the Off-Campus Life program expands and more resources become available!
Lastly, I want to give a shout-out to my colleague, Joe Schumacher, director of MSU Veteran Services, for coordinating the Overwatch Project. The suicide prevention program takes on the difficult topic at the intersection of firearms and suicide. All are welcome to attend the Overwatch event Saturday, April 9, as we can all benefit from the training.
Sincerely,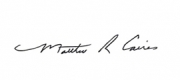 Matthew R. Caires
Dean of Students
P.S. For parents and families in the Denver area, join the Mile High Chapter this Thursday evening, April 7, and hear from Dr. Brett Gunnink how MSU is educating students to stay ahead of the curve. Follow this link for more event details.