Dear Bobcat parent and family members,
Like many institutions across the country, MSU issued an information bulletin to students, faculty and staff last week with an update about the new coronavirus--2019-nCoV--identified last December. University Health Partners Medical Services has undertaken training and is prepared to respond to acute respiratory illnesses and to protect the health and wellbeing of our campus community.
You can find more detailed information about coronaviruses, links to public health organizations and precautions to follow to avoid the spread of respiratory illness on the University Health Partners website.
In my last message, I shared with you travel and volunteer opportunities for students through our spring break program, BreaksAway. Today, I want to bring your attention to MSU's Peace Corps Prep Program. This program offers an incredible opportunity for students to gain intercultural competency and explore Peace Corps' six sectors of global service. Associate Dean and Professor Tracey Dougher manages the certificate program and advises students about how to best fulfill the service and coursework requirements. You and your student can learn more online on the program website.
Earlier this week, we hosted Part 2 of our live Off-campus Living Webinar for parents and family members. We host these webinars a few times a year to help parents understand current topics facing their student in Bozeman. For many students, one of the most stressful things they will deal with this spring is finding housing for next year. If you were unable to listen in but would like to hear the recorded webinar, you can find a link to the recording here.
Next Monday afternoon, Feb. 10, we'll be sharing the same information and more with students at the annual Off-Campus Living Resource Fair in the SUB from 2 to 5 p.m. The fair aims to provide students who plan to live off-campus for the first time with connections to local resources. The fair also engages students in fun and interactive ways to learn about the services and expectations that go with living in the city of Bozeman. If you and your student are considering off-campus housing options, please encourage your student to stop by--there'll be raffle prizes and free refreshments.
Warm regards,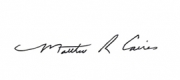 Matthew Caires
Dean of Students
P.S. This week I learned that the City of Bozeman is partnering with the U.S. Census Bureau to ensure a complete count for the 2020 census. The effort has numerous flexible job opportunities available, and the pay rate for Gallatin County is pretty competitive at $19.50 per hour. It sounds like a great job for an MSU student looking for additional money to help pay for college expenses.