Dear Bobcat parent and family members,
The weather in Bozeman has been all over the map lately. On Super Bowl Sunday, it was sunny, with highs in the 40s. Snow was rapidly melting away, and I saw runners in shorts and T-shirts. Two days later, a winter storm dumped 8-plus inches of snow in the Gallatin Valley, with high temperatures in the 20s. This seesawing weather is wild and unpredictable, but it's a sure sign that it's almost spring in the Northern Rockies.
This is why the name of MSU's upcoming career event - the Almost Spring Career Fair - is so perfect. If your student is looking for full-time employment or an internship, please encourage them to check out this event, which is scheduled Feb. 27 through March 3. We expect more than 200 employers to be at the fair. Participants include Montana organizations and companies like Bozeman Health, Billings Clinic, Barnard Construction, Century Companies, Northwest Farm Credit Services, onXmaps, Zoot Enterprises, Wildfire Defense Systems and D.A. Davidson, and regional and nationwide employers such as Northwestern Energy, Fast Enterprises, Los Alamos, Verizon and many more.
Receptions, networking events and information sessions run from Feb. 28 to March 1 in various locations around campus. The fair days will be Wednesday and Thursday, March 1 - 2, in the Strand Union Building (SUB) ballrooms. In addition, interview days are scheduled for March 2 in Inspiration Hall and March 3 in the SUB.
Please encourage your student to visit the Almost Spring Career Fair website for a list of attending employers and the complete schedule of events.
In advance of Career Fair, starting this Thursday, Feb. 23, through Tuesday, Feb. 28, Career, Internship & Student Employment Services is offering Career Fair Prep sessions with varied opportunities to help students get ready for the Career Fair, including:
Attire from the Bobcat Career Closet
Career Coaches to review and critique resumes
Employer research with an expert in the field
Info sessions with employers on campus
Employers participating in mock interviews and providing industry insight
Salary negotiations with the Office of Financial Education
Professional headshots for your LinkedIn profile or other professional needs
The full schedule of these opportunities is posted on the Career Fair website.
I also want to highlight the first resource I listed above, the Bobcat Career Closet. Offered by the Allen Yarnell Center for Student Success (AYCSS), the Bobcat Career Closet helps students obtain a free professional outfit to make a good impression during interviews for internships or their first job out of college. A fashion designer, examples of appropriate professional attire, and a practice ironing station will also be available to students. The Bobcat Career Closet is scheduled Feb. 23, from 10 a.m. to 4 p.m., in the SUB. Clothing is provided through donations from the Bozeman community.
Finally, AYCSS provides a Career Fair app for Android and iOS operating systems. Through the Career Fair Plus App, students can access event details, announcements and real-time updates, a complete list of employers, an interactive floor plan and tips for preparing for the Career Fair.
Kind regards,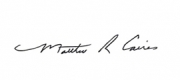 Matthew R. Caires
Dean of Students