Dear Bobcat parent and family members,
At the front end of the semester, I like to make sure that you and your student are aware of important upcoming deadlines and application dates.
Upcoming deadline for adding/dropping classes
Next Monday, Jan. 25, is the last day for students to add a class for the semester. The following Monday, Feb. 1, is the last day for students to drop a class and receive any financial refund. Starting on Feb. 2, students can still withdraw from a class or classes until Apr. 6, but that action will result in a W (for every course dropped) on their transcripts, and refunds do not apply.
We recommend that students ALWAYS consult with their academic advisor about adding or dropping classes, especially if this action takes them below a full-time credit load (15 credits or more). Dropping below full-time impacts a student's ability to graduate in four years and could have financial aid implications. Please visit the Office of the Registrar website for more information about adding/dropping classes and the refund schedule.
Application deadline upcoming for 2021-22 academic year scholarships
The priority application deadline for most scholarships in the Cat $cholarships system is Feb. 1. For details, visit the Cat $cholarships webpage.
Application period opening for on-campus housing
Beginning Feb. 1, students can apply for 2021-2022 on-campus housing. Students currently living on campus are given priority in choosing a room for next fall before the assignment of new students begins in March. Students and parents can find more information about on-campus housing options on the Residence Life website.
I recommend having a conversation with your student about their plans for housing next fall so you can explore various housing options on and off-campus. If your student is considering a move off campus, we will be hosting a webinar for parents about off-campus living on Tuesday evening, Jan. 26. Please register in advance if you would like to attend the online event.
Finally, I'd like to draw your attention to a series of virtual meetings the city of Bozeman is hosting on the topic of parking. The "Finding a Spot" series will provide an overview of how the city manages parking, including in the MSU Residential Parking Permit District and downtown Bozeman. City officials will listen to feedback from users on how we can work together to optimize the city's existing parking supply for residents, visitors and employees. The first session, which will focus on the MSU and Bozeman High School residential parking permit districts, will be Jan. 25 from 5:30 to 7 p.m. If your student lives or parks in the MSU parking district -- which includes off-campus street parking, not permitted MSU lots on campus -- please make sure they're aware of this series. For more information, including the link to join the meetings, please visit the city of Bozeman's Parking Engagement Hub.
Warm regards,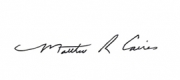 Matthew R. Caires
Dean of Students