Dear Bobcat parent and family members,
Happy New Year! A special welcome to parents and family members of students enrolled for their first semester at MSU. You will be receiving informational messages like this from me throughout the semester, and I encourage you to respond if you have questions, comments or concerns for your student.
Parents and family members of students returning, I hope this email finds you and your student well at the end of the winter break.
Campus has been quiet during the last four weeks, with the biggest news coming from Frisco, Texas, where the Bobcat football team made their first national championship appearance since 1984. While our 'Cats played their hearts out, it just wasn't our day. Still, we are immensely proud of Coach Vigen, his coaching staff and our student-athletes.
In this first email of the spring semester, I'd like to share a message from Dr. Durward Sobek, Vice Provost of Academic Affairs and Professor of Industrial and Management Engineering Systems:
At some point in their time in college, most students experience disappointment or academic hardship. This could be a poor grade on an exam or paper, a group project that fizzled, falling behind and withdrawing from a class or even failing a class. Other students may have done well in their classes but feel like they've selected the wrong major.These setbacks need not derail a student from pursuing their dreams. Research shows that a student's ability to rebound from such disappointments is heavily influenced by the response of their support network -- you, other family members and loved ones. If you're wondering how you can support your student if they're struggling, here are a few suggestions:
Tell them that you believe in them and that they can finish that college degree. Remind them that it's normal to experience difficulties and setbacks when pursuing a challenging goal.
Suggest they take advantage of resources available to them, such as the services offered by the Office of Student Success to learn about effective learning strategies and other helpful habits of mind.
Suggest they meet with a Career Coach if they're concerned whether their major aligns with their interests and values.
If your student has already signed up for spring semester courses, great! We look forward to seeing them next Wednesday, Jan. 19, the first day of classes. If they're not sure they've registered for the right courses, we have people they can talk with to make sure that their course selection is optimized for them. If they haven't registered yet, we can help with that too! It's not too late, but they do need to talk with an advisor if they haven't done so already.Bottom line: we'd love to see your student back on campus for the spring semester, and we're here to help your student succeed. Let's work together to help them get across the finish line -- graduation!
Sincerely,
Durward Sobek
Thanks to Dr. Sobek for timely words of encouragement and reminders about the many student support services available on campus!
Here are a few other items of interest as we approach the start of the spring semester. In an email last December, I mentioned the Off-Campus Housing webinar, which is now scheduled for Jan. 26. Hosted by MSU Student Housing and local property management and real estate companies, this webinar is geared toward parents and family members. The webinar will address the pros and cons of moving off-campus, a checklist of points to consider, and aspects of being a good neighbor in Bozeman. You can find more information about the webinar and register on the Bobcat Parent Family webpage.
Also, if your student skis at Bridger Bowl, the ski area now offers free daily bus service between the SUB at MSU and the mountain. This is a safe and economical option that helps alleviate traffic to Bridger Bowl, parking constraints at the ski area, and keeps our mountain air clean. The daily schedule and other details are available on the Bridger Bowl website.
Take care,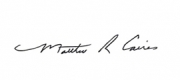 Matthew R. Caires
Dean of Students