Dear Bobcat parent and family members,
With spring break next week and our students traveling worldwide, I thought I'd share some vacation safety tips for you to pass on. There are some helpful reminders in this article, "11 Spring Break Safety Tips for College Students," on the Collegiate Parent website. If they plan to travel abroad for the break, students can verify COVID-related restrictions and requirements for the U.S. and other countries by visiting the CDC's International Travel website. The CDC also has a webpage with tips specifically for Spring Break Travel.
Please take this opportunity to discuss some simple safety-related plans with your student. And we strive to instill the University's Code of Student Conduct, so that wherever our students are, they remember what behavior is expected of them as Bobcats.
Spring break also means we have less than two months before the semester ends, so if time allows, consider checking in with your student about how they're doing in their classes and if they might need some support.
Our Allen Yarnell Center for Student Success (AYCSS) team is available to connect students with resources and information to provide academic support. Among their many services and programs, AYCSS offers Success Advising, Peer CATalyst Mentoring, SmartyCats tutoring and Financial Education, which are free and confidential for all students. The AYCSS team can also connect students with our campus partners in the Math and Stat Center, Writing Center, academic help centers and others. Please remind your student of the resources available through the AYCSS and encourage them to reach out if they need academic support.
If your student is coming home or remaining in Bozeman for spring break, they might consider getting a jump on searching for that summer internship or job. It's the perfect time to work on their resume and apply for summer jobs. Does your student need help writing or revising a resume? If so, they can schedule a career coaching appointment through the CatTracks portal over the break (or after!) by calling the Allen Yarnell Center for Student Success at 406-994-4353 or visiting the AYCSS's Resume and Cover Letter Writing webpage.
Meeting with a career coach can be beneficial if your first- or second-year student is still exploring degree options and careers. AYCSS also has a Career and Major Research webpage with a lot of information about career paths based on major, MSU graduate outcomes and organization research. They can also access O*NET Online to find, search and browse across 900-plus occupations based on their goals and needs. In addition, O*NET Online provides comprehensive reports about the requirements, characteristics and available opportunities for various fields.
Finally, in the spirit of campus safety and transparency, please know that our policies and programs for reporting crimes and responding to emergencies on campus are available to you. MSU provides all this information and more in our Annual Security and Fire Safety Report. The report also delineates how we communicate with our faculty, staff and students in the case of an emergency. You can read more about the types of campus communications we send out on the MSU Alert website. Parents and family members can sign up to receive MSU emergency notifications.
Take Care,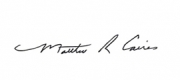 Matthew R. Caires
Dean of Students
P.S. Heads up to parents in the Seattle area: I will be in Woodinville on Thursday, April 6, at a reception hosted by the Bobcat Puget Sound Chapter. Click here for details and to register.